City of Riverside Historical Landmarks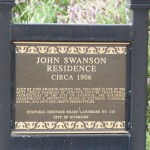 Last weekend I was riding my bike around town and I saw this very beautiful house in the middle of what I would describe as plain suburbia setting. Coming closer to the house I saw this sign:
It became immediately apparent to me that there are at least 112 more of these markers out there. I thought to myself wouldn't be cool to go out on my bike and try and visit them all?! So I did a little more research and I found this list:
(UPDATE: 4/30/14 Since initially writing this list I have discovered there are now 125 City of Riverside Landmarks and many more interesting memorials and artifacts. As I find new places or as new landmarks are declared I will add them to my list for exploration.)
1. Mission Inn
2. Riverside County Courthouse
3. Universalist-Unitarian Church
4. Magnolia United Presbyterian Church
5. Heritage House (Bettner-McDavid House)
6. First Congregational Church (United Church of Christ)
7. First Church of Christ, Scientist
8. Victoria Avenue
9. Union Pacific Depot
10. Bandshell at Fairmount Park
11. Riverside Metropolitan (Municipal) Museum
12. S.C. Evans Residence
13. Benedict Castle
14. Buena Vista Drive and Carlson Park
15. Parent Navel Orange Tree
16. Sherman Indian Museum
17. Riverside Municipal Auditorium
18. Riverside Art Museum
19. Chinatown Site
20. Fred Stebler House
21. Loring Building
22. New Jerusalem Church
23. Harada House
24. The Gage Canal
25. Edgewild
26. Mt. Rubidoux
27. John W. North Park
28. Old City Hall
29. Rockledge
30. Devine House
31. Raeburn
32. Arcade Building
33. Bonnett Building
34. Estudillo House
35. Irvine House
36. Waite House
37. Cressman House
38. Grant School
39. Fox Theater
40. Seventh Street
41. Young Men's Christian Association Building (YMCA)
42. Greystones
43. Lerner Building
44. Hole Mansion
45. Collins-Seaton House
46. Arlington Branch Library
47. Batkin-Chrysler House
48. Riverside City College Quadrangle
49. University Heights Junior High School
50. Rouse's Department Store Building
51. Ward House
52. Weber House
53. Moulton House
54. Victoria Bridge
55. Hoover House
56. Palm Elementary School
57. White Park
58. Orchard House
59. Robert Bettner House
60. The Chicago White Sox Redwood Tree
61. Montezuma Bald Cypress Trees
62. Magnolia Avenue Parkways and Center Median
63. Palm Grove
64. Roosevelt Palm
65. Native Sycamore Tree
66. Horse Chestnut Tree
67. Evergreen Cemetery and Riverside Mausoleum
68. Mitchell House
69. Fairmount Park
70. Harwood Hall House
71. Shiels House
72. McIntyre House
73. Newman Park and the De Anza Statue
74. Buena Vista Bridge
75. (Wilson) Stone House
76. Stone House (yes there are two of them)
77. Hammer-Wallihan House
78. Jarvis House
79. Collier House
80. M. H. Simons' Undertaking Chapel
81. William Childs House
82. Hartee Grove
83. First Christian Church Parsonage
84. Aurea Vista Hotel
85. Casa De Anza Motel
86. Rockledge Cottage
87. Tetley Building
88. Henry M. Streeter House
89. James M. Wood House
90. Roosevelt Building
91. Ridgecourt
92. J. R. Willis Building
93. John J. Hewitt House
94. Dr. Edmund Jaeger House (Delisted)
95. First United Brethren in Christ
96. Irving School
97. Chudzikowski Home Site
98. White Park Building
99. Benjamin Rockhold Family House
100. Santa Fe Depot
101. Elmer A. Day House
102. Food Manufacturing Corporation
103. Jaeger Family House
104. Raymond Cree-Criddle House
105. Mary and Emerson Holt House
106. Alkire House
107. Holden House
108. Ames-Westbrook House
109. Riverside Upper Canal
110. Piddington House
111. Lillian M. Spurgeon Residence
112. R.D. Brough/Harry W. Hammond Residence
113. John Swanson Residence
114. Jackson Building
115. Arthur N. Sweet House
116. Ernest and Louise Clarke House
117. C.O. Evans House
118. Five Points Intersection
119. All Saints Episcopal Church
120. Walter C. Banks Residence
121. Bobby Bonds Residence
122. Payton House
123. Hawthorne House
124. Marcy Branch Library (the old one)
125. Clinton & Geraldine Marr Residence #2
Honorable Mentions:
1. Riverside National Cemetary
2. Mahatma Ghandi Memorial
3. Martin Luther King Memorial
4. Cesar Chavez Memorial
5. "Safe In His Arms" Memorial
6. Dosan Ahn Chang-Ho Memorial
7. California Tower
8. Seth Thomas Clock
9. Eliza Tibbets Statue
10. Crocker-Citizens Bank/Old District Attorneys Office/Soon to be Public Defenders Office
11. Security Investment Company/Provident Bank
12. Tio Tacos
13. Riverside City Hall (current)
14. Bomber Plane House
15. Chinese Memorial Pavilion
16. Sundial Clock
17. Japanese Stone Lantern
18. Ronald O. Loveridge Plaza
19. California Museum of Photography
20. Brockton Arcade
21. Staff Sergeant Ysmael R. Villegas Statue
22. "Freedom Is Not Free" Memorial
23. Christiansen and Teel Memorial (City Hall)
24. Christiansen and Teel Memorial (Police Department)
25. Ryan Bonamino Park
My plan is to visit each one of these places and do a small blog entry about each one. This post will be my landing page and as I visit each place I will change the number into a link, or you can just follow along on my list through the RSS feed or by checking up on the blog. Should be fun.