Riverside Metropolitan Museum (RMM): City of Riverside Landmark #11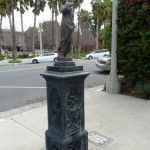 Location: 3580 Mission Inn Ave.
Date Established: 1912
Date Visited: 10/21/2014
The building that currently houses the Riverside Metropolitan Museum also known as the RMM has had various reincarnations. The building started it's life in 1912 as a Federal Post Office. At the start of World War II it was taken over by the war department and in 1943 housed soldiers on temporary leave in Riverside. In 1945 the City of Riverside bought the building and used it to house the Police Department and the City Museum was housed in the basement. In 1965 the Riverside Police Department got it's own building at 4102 Orange St. and the after a brief restoration the City Museum completely took over the space in December of 1966.
The Riverside Municipal Museum, now known as the Riverside Metropolitan Museum (RMM). Started on December 12, 1924, when the widow of National Biscuit Company (NABISCO) magnate Mrs. Cornelius Earle Rumsey donated her husband's collection of Native American artifacts to the city. In the beginning the museum was housed in the basement of the old city hall building and was really more of an archive that guarded prominent artifacts donated by various citizens. It wasn't until the mid 60's and early 70's by the efforts of people such as world famous naturalist, and Riverside resident, Edmund C. Jaeger, that the museum would start to grow and expand into a traditional museum with both permanent and rotating displays.
Today the RMM is a very prominent organization within the City of Riverside. It also has associations with national museum organizations including the Smithsonian. Besides the downtown location the RMM also owns the Harada House and the Heritage House. The permanent collections of the museum include it's original Native American artifact collection, some city artifacts, and various stuffed animals. When I went to the museum there was a display regarding the Cahuilla Indians and a display upstairs regarding John Muir and his visit to Riverside.
If you have some time I would encourage you to go. The museum is open most days 9:00 am to 5:00 pm and admission is a suggested $2, but not required.