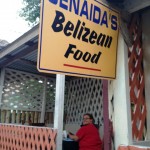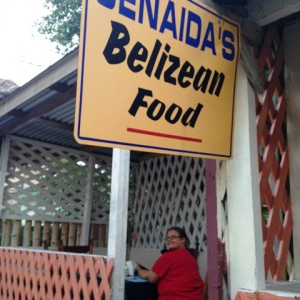 Despite the low GDP in Belize the food in the country is very rich and diverse.
When we were in Belize we had the privilege of trying food in a variety of settings…
Some places were very fancy like the Marriott Hotel in Belize City:
Some places like the bus stop were not really eating places, but no matter where you go there was always food in Belize:
My (John) favorite places were when we got to eat with the people at their homes. This is where you really see what people are eating:
The first thing you notice coming off the plane is that there are no chain fast food restaurants in Belize. There is really no need for them in Belize for mainly two reasons: One, regular Belizean food is so cheap they would never be able to compete on prices; and two, Belizeans don't really like to eat their food quickly. The majority of the restaurants we saw had outdoor eating areas where the people would sit and watch the people go by, it was kind of like watching a parade but no one really was headed in any particular destination and no one ever marched to the same beat.
To list all of the food we had in Belize would be impossible but I did want to at least try to give a top ten:
10: Stew with beans and rice. Cost: $8 BLZ ($4 USD). This is a classic food in Belize. Typically it also includes potato salad, but one place called Eva's served it with mashed potatoes that were so good that one time I just ordered mashed potatoes.
9. Chinese food plate. Cost: $9 BLZ ($4.50 USD). Surprisingly Asians own a lot of the restaurants and stores in Belize. The result of which is that you can get some really good fried rice in Belize, but for some reason you also get french fries included with your Chinese meals.
8. Belizean Ice Cream. Cost $2 BLZ ($1 USD). With all the fresh fruit and chocolate in Belize it is no surprise that the ice cream in Belize is really good. There is no Baskin Robbins in Belize but if there were I think they would have to change their slogan to "365" because there were no end to the different types of variations we saw. The strangest one had to be the spicy tart ice cream. Ice cream should not be spicy.
7. Lemon Tarts. Cost $1 BLZ ($1 USD). Small convenient and sold at every bus stop. Guaranteed to make you feel like you were instantly transported to an island.
6. Johnny Cakes. Cost $2.25 BLZ ($1.125 USD). These hearty creations were originally made for sailors sailing across the Atlantic. Once hardened Johnny Cakes can last up to 6 months, which is plenty of time for a pirate to attack and loot quite a few Spanish ships.
5. Fry Jacks. Cost $5 BLZ ($2.50 USD). Fried dough, how can you go wrong? You can't. They look and taste just like mini Indian fry breads and are great for a hearty breakfast right before a day exploring ancient ruins.
4. Conch Ceviche. Cost $10 BLZ ($5 USD). I had heard of this dish from before I had even set foot in Belize. Conch are mostly known in the USA as those shells that Hawaiians are always making into horns, but apparently the snail that lives inside them are edible. In Belize they pull out the snail, pulverize it with a hammer, chop it up with onions and tomatoes, and then serve it with lemon juice and chips. It reminded me a lot like coctel de pulpo (octopus cocktail).
3. Coconut Tarts. Cost $1 BLZ ($1 USD). Lemon tarts are good, but coconut tarts are just one notch above. Eat one of those and not only do you feel like your on an island, but you just became a poor rich man on an island.
2. The lobster roll. Cost $2 BLZ ($1 USD). I couldn't believe it when I saw them in the bus station. Someone was actually going to give me a fried lobster roll for $2 BLZ. I quickly bought all 5 that they had and to my surprise they had 5 more when we came back several hours later, which I also bought!
1. Chocolate bars. Cost varied. Hello! This is why we came to Belize and it did not disappoint. Any empty space I had in my (John's) backpack on the way back was dedicated to the loading of as much chocolate I could get my hands on. It is eventually going to run out, but in the meantime I (John) plan on having a good time.
A few other honorable mentions would also have to include freshly squeezed juice, chocolate cookies (what we would call brownies), pepper jack steak, and coconut sauce fish.
Eventually we did go home and we had to leave all that great Belizean food behind. In the mean time we will always have the memories and if we are really lucky we might even find a good Belizean restaurant one day.