24 Hrs. in Stockholm, Sweden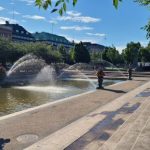 Date Visited: 07/27/22
The deal we got with Norwegian Cruises came with included flights, it was a good thing but was also frustrating because we didn't get any control over our flights and we learned afterwards that you can request, but will only get flights within 48 hrs. of your cruise. We had lots of time and unfortunately Norwegian did not grant our request for extensions and booked us on a flight like 30 hrs. after the ship arrived in Stockholm. That said I was determined to make the best of the situation and see as much as we could in the City of Stockholm.
The ship arrived at a dock that was kind of far away from the city center. We later found out that we were at the farther of two cruise ship terminals. Getting through the cruise ship terminal was very easy. There were plenty of taxis at the terminal but when I started to ask for prices I got a bad vibe. I was asking different prices and this female taxi got close to me and started to yell "fixed rate! fixed rate!" Which was a total lie because I had just gotten 3 different quotes in less than two minutes. Her yelling was starting to draw attention and so I just started walking away and told my family to follow me. She then yelled "where you going?!" and I said "to get a better taxi." She laughed and said "you'll be back", I didn't go back.
What we did is we walked about two blocks to the end of the cruise terminal and I got an Uber. Turns out Uber was the way to go because it was 1/3 of the lowest price I got back at the terminal. I also found out later there was a bus right next to where I got the Uber, but we had all our luggage so it was all good.
We stayed at the Queen's Hotel in Drottininggatan, which translates to Queens Neighborhood. The area was kind of the foreigners area of Stockholm, there were all sort of ethnic stores and restaurants. There were things like Italian food, TGI Fridays, and 7-11 (which is not at all like our 7-11s). Probably the store that got me was the Tasty America store. It was very interesting to see what was considered "American", never thought of Takis as American, but so be it.
I was not in Stockholm for root beer, which is good because the Tasty America store did not have it. I kind of had to acclimatize myself to the city so we did kind of a reverse tour and started near the Central Station, which is the more modern part of Stockholm and gradually made our way to Gamla Stan, which is the oldest part of Stockholm. There are 15 islands that are connected by 57 bridges in Stockholm.  We had a hop on and hop off bus, but there was so many tourists that I quickly hopped off the bus because it was too crowded and too slow for my limited time. What worked out better was a 24 hr. bus pass that included the ferries, it was much more efficient and less expensive than the hop on and hop off bus.
Djurgården is the museum island in Stockholm and is a must visit when you are in the city. There are so many different museums on the island and two amusement parks. We obviously did not have time to do them all. The places we got to visit were the Vasa (a preserved ship from the 1300s) , the Viking Museum (that has a dark room ride in the basement), and Skansen (this is like an amusement park and an historic interpretive center). The most popular museum is the ABBA museum and if you want to go there you must make reservations. You can get to Djurgården by boat or by bus.
The Vasa:
Ragnfrids Tale:
For dinner we had fish and potatoes, which we were told was very traditional. I was more impressed by the hot chocolate we had at a place called  Dirty Coco and even more impressed by the huge breakfast spread. When I say spread, I mean it, pretty much anything that could be spread was served, jelly, butter, jam, patte, liverwurst, all the spread.
The last thing I did was go to Stockholm's City Hall at Kungsholmen island. Before I  took the City Hall tour I walked around the grounds and found the golden sarcophagus of Birger Jarl, who was the City's founder. It is however an empty tomb because his family decided not to bury him at City Hall. It is OK though because the Stockholm City Hall is also known for something else very important, that is that it is the site for the annual Nobel Prize awards banquet in which the winners of the Nobel price are celebrated.  Interesting story about Alfred Nobel, he created the Nobel prize after an obituary was accidentally published in his name. He did like the fact that his legacy was to be "Dr. Death Dies", so he dedicated his time to philanthropic causes so that he would be remembered better.
Our time in Stockholm was short but the time in the airport was very long. Due the Ukranian war, flights in Europe were kind of dicey and so it took us a long time to get into the airport. What was also interesting to me is that we were screened three times prior to getting on our plane. Being from the USA I am used to being searched entering a country, but was weird being searched to leave the country. You can't just leave Sweden, you have to get checked out and only then can you get an exit stamp that will allow you to take an international flight out of the country. A very interesting custom, but we got through it and now we have lots of fun memories of Stockholm.
24 Hours in Stockholm: