Visby, Sweden Capital of Gotland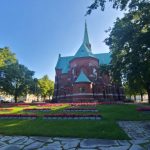 Date Visited: 7/26/22
The Island of Gotland started as a viking city state that by the year 1225 had been basically sold to the Hanseatic League. The island however is very strategic and therefore was constantly being ransacked by different countries. I guess God said enough was enough and in the 18th century a plague killed almost everyone on the island (which at the time happened to be the Russians) and so the island was pretty much abandoned for a long time. Eventually the Swedes decided to risk setting foot on the island in 1905 and have owned it ever since.
The result of 1000s of years of fighting and then being abandoned has made Visby an interesting city. Today the city is the capital of the island, but it is still kind of small in terms of population. The cruise ship terminal was a little bit away from the town center so we decided the best way to get around was on bikes, which worked out really well because the town is this mixture of medieval structures and then little tiny village houses.
There are a few churches that survived and were restored, but most of the medieval structures in Visby are in a state of suspended decay. You can rent a key or maybe get lucky and have a local open up the gates so that you can explore the ruins of these ancient buildings. Probably the most curious of the buildings was Sankt Goransporten, which was this gate that still has the remains of a catapult rock.
My favorite part of the island was the botanical gardens. Set in what used to be the king's garden, you can find local plants. The garden is well kept and is very what I would call aesthetically pleasing.
The bicycle was fun and a cheap way to get around Visby, but I haven't been on a bike for a long time so it got me tired after being on a bike for the whole day.
Luckily there was a huge ice cream store named Glassmagasinet right on the way to returning the bicycles. That was a very smart business owner, it was very good ice cream.
Video: