Benedict Castle: City of Riverside Landmark #13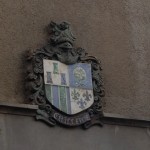 Location: 5445 Chicago Ave.
Date Established: 1922
Date Visited: 10/23/2014
The construction of the Benedict Castle started in 1922 and took about 9 years to finish. It is estimated that the total cost for building the castle was about $300,000. Which back then was an amazing sum of money (about the same as $4 million of today's dollars). The construction was under the order of Charles Williston Benedict. A native of Riverside he left Riverside just after graduating high school and came back a rich man. Not much is known how exactly he made his riches, but it is known that he operated a firm called the Brockmeyer Economic Service which principal activities included stocks and bonds.*
The name today of the castle is the Benedict Castle but Charles Benedict named the build the "Castillo Isabella". He was looking for a castle like residence he had seen in Europe and wanted to keep in harmony with the Mission Revival theme common with the rest of Riverside. To do that he hired architect Henry Jeckel. Mr. Jeckel was known for building the Biltmore Hotel in Los Angeles and which his Spanish-Moorish influences was a fitting pick for chief architect.
Despite the expense in construction the house fell on hard times and in 1949 was auctioned for a final bid price of $52,000. The buyers were Tom Perrin and Francis McDowell who retired Riverside residents who resold the land for the use of the Catholic faith. The Catholic church used the building to train priests for the Servite Catholic Order and was named the Seminary of Our Lady of Riverside.* Today the building is owned by an organization named Teen Challenge and is used to house men who are going through substance abuse rehabilitation. The organization also rents the grounds for wedding receptions.
When we went we were invited to a praise service hosted by Teen Challenge. While there we got to hear from Laura Johnson who spoke about her missionary service in different parts of the world. It was kind of different from the worship ceremonies I was used to because of the different music and that it was in a tent. It is always good however to celebrate God and the work that they do at the center is very much needed in the community.
*Patterson, T (1964). Landmarks of Riverside and the Stories Behind Them. Riverside, CA: Press Enterprise.