The Mission Inn: Riverside City Historic Landmark #1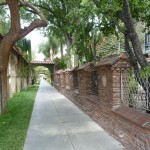 Location: 3649 Mission Inn Avenue
Date Established: 1903
Date Visited: 4/18/14 (well actually many times before that)
(click to expand photos)
"It is the most unique hotel in America. It's a monastery, a museum, a fine hotel, a home, a boardinghouse, a mission, an art gallery and an aviator's shrine. It combines the best features of all of the above. If you are ever in any part of California, don't miss the famous Mission Inn of Riverside." – Will Rogers
The Mission Inn Hotel started it's life as just a regular home to the Miller family in 1876. In the begining the Miller home was more of a bed and breakfast boarding house. They would house people long term as they visited the orange fields. By the 1890s however all those oranges were quickly making Riverside one of the richest per capita city's in the nation. Being the entrepreneur that he was, Frank Miller decided to create a destination hotel to lure more tourists into Riverside. Inspired by the California Mission system he created The Mission Inn Hotel.
The Mission Inn Hotel first opened as a hotel in 1903.To help inaugurate the place he invited President Theodore Roosevelt to come and stay the night. The first of many such guests Frank Miller invited many famous people to stay at the Mission Inn. Booker T. Washington, Bob Hope, President Taft, President Nixon, President Reagan, Clark Gable, and Will Rogers are only some of the names of the people that have visited the Mission Inn Hotel.
I have never stayed overnight, but I have been fortunate to go to many events at the Mission Inn. The food in the courtyard is very good. For $16 dollars you can take a guided tour or if you are more adventurous you can just walk the grounds yourself for free.