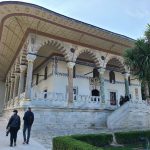 At the beginning of the year we went on an epic trip to Spain and Italy. We learned about the rise of the Roman empire, perhaps one of the most influential civilizations of all time. However it is a civilization, like many, that no longer exists. If you ask Italians today they will of course claim heritage, but the truth is Italy was not Rome. Rome had moved to Constantinople in the year 330 AD, but the thing is Constantinople doesn't exist either, it fell in 1453 AD.
There are so many things to do in Turkey. I knew so little about Turkey prior to going there. I knew that Istanbul use to be Constantinople, the Christian Capital and that it has fell. I knew there was a song about Istanbul, the song is kind of corny, but it clearly let's people know the City is no longer called Constantinople, it was Istanbul.
This is a list of all the things we  did in Turkey. It is by no means an extensive and/or authoritative list. For example, we didn't go on the traditional Turkish travel trail which is Istanbul, Cappadocia , Pamukkale and Ephesus. One of our things is we like visiting country capitals so we went Istanbul, Ankara, Izmir, Ephesus, and back to Istanbul.
The way this list works is it is a four category system. A) is something I would say is an essential Turkish experience, yes, it may be touristy, but you should at least try it once. B) is highly recommended, but not essential. C) was a good experience, but not a highly recommended experience. Finally, D) was a take it or leave it experience, it might be fun to try, but it probably doesn't really mean much. The A) list is also what I would consider our top ten list and therefore ranked (the rest is alphabetically ordered). My intent is to eventually link this list with corresponding blog posts and use this as an index page.
| | | | | |
| --- | --- | --- | --- | --- |
| | Place | Rating | | |
| 1 | Haggia Sophia | A | 1 | |
| 2 | Topkapi Palace | A | 2 | |
| 3 | Ephesus Archaeological Site | A | 3 | |
| 4 | Ankara Castle | A | 4 | |
| 5 | Museum of Anatolian Civilizations | A | 5 | |
| 6 | Anıtkabir | A | 6 | |
| 7 | The Grand Bazaar | A | 7 | |
| 8 | Museum of Anthropology | A | 8 | |
| 9 | Bosphorus River Dinner cruise | A | 9 | |
| 10 | Seven Hills Breakfast | A | 10 | |
| 11 | Ankara Airport | B | | |
| 12 | Bath House | B | | |
| 13 | Candy and Spice Demonstration | B | | |
| 14 | Ephesus Museum | B | | |
| 15 | Galata Tower | B | | |
| 16 | Güllüoğlu baklava | B | | |
| 17 | IST Airport | B | | |
| 18 | Kadikoy (Asian Side) Bazaar | B | | |
| 19 | Kınacızade Konağı (Mansion Restaurant in Ankara) | B | | |
| 20 | Pegasus Airlines | B | | |
| 21 | SAW | B | | |
| 22 | Seven Hills Hotel Terrace | B | | |
| 23 | St John Cathedral | B | | |
| 24 | Temple of Artemis | B | | |
| 25 | The Ethnography Museum of Ankara | B | | |
| 26 | The obelisk of Theodesis | B | | |
| 27 | Turkey Light Rail | B | | |
| 28 | Turkish Airlines | B | | |
| 29 | Turkish Ice Cream | B | | |
| 30 | Arasta Bazaar | C | | |
| 31 | Basilica Cistern | C | | |
| 32 | Carpet Demonstration | C | | |
| 33 | Chestnuts | C | | |
| 34 | Chora Church | C | | |
| 35 | Ferry to Asian side | C | | |
| 36 | Galata Mevlevi Lodge Museum (Dervish House) | C | | |
| 37 | IST Airport Taxi | C | | |
| 38 | Izmir Airport | C | | |
| 39 | Le Safran Restaurant (testi jar kebabs) | C | | |
| 40 | Olympus Hotel | C | | |
| 41 | Pide (Turkish Pizza) | C | | |
| 42 | Semit | C | | |
| 43 | Sultanahmet (Blue) Mosque | C | | |
| 44 | Taksim Square | C | | |
| 45 | The Hann Ottoman Restaurant | C | | |
| 46 | The Sultanahet Restaurant (kebabs) | C | | |
| 47 | Theodora Hotel | C | | |
| 48 | Turkish Donuts | C | | |
| 49 | Bull Statue | D | | |
| 50 | Funicular | D | | |
| 51 | IST Airport Bus | D | | |
| 52 | Kadikoy post office | D | | |
| 53 | McDonald's in Turkey | D | | |
| | | | | |
| | | | | |