Traveling to Mexico During COVID19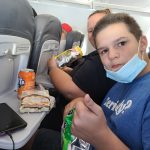 Date of Visit: 10/2/20
I have had a lot of questions from family, friends, and co-workers about traveling during COVID19. I have had a few people outright tell me traveling during COVID19 is dumb, I personally disagree with them. I am a believer in COVID19, but I believe in weighing risks, and to that end I am done with letting COVID19 take control of my life. I realize it could take my life but to me that is one of many things that could kill me and I have to take that into consideration like everything else. That said I am taking what I believe are proper precautions. My family socially distances, we wear masks in public, and get tested twice a month.
These days it is important to make sure to give yourself a lot of extra time if you are going anywhere, let alone travel to another country, you need to give yourself both time and space. For international flights you really do need to give yourself three hours before the flight ends. Right now with all the changing rules on COVID19, you just don't know what you are going to encounter on the way to your flight. For our latest trip we left the house at 10:30 for xborder express, which is a special bridge that allows you to cross the Mexican border into the Tijuana International Airport. This would have gotten us to the Cross Border Xpress bridge an hour before our flight, which is normally fine but it wasn't this time.
We drove non stop to Cross Border Xpress bridge and arrived at 12:20, which was close to our 12:45 boarding time but I thought we would be OK. The number 2 lot was full and we were not sure on the price for lot 3 so we went all the way around again to lot and ended up in the far back lot. It cost us $15 (USD) a day to park. You get a little ticket which you use on your way back to pay for the parking.
Things you should have to have before using the CrossBorder Xpress bridge to go through faster:
Note: All these things can be done at the bridge (except for ID documents) but you save yourself a line for each one you do before you get there.
In order to save some time we had bought our roundtrip CrossBorder Xpress (https://www.crossborderxpress.com/en/) tickets ($30USD) ahead of time and printed out the barcode. We had a small 5 min wait to scan in on the US side. The way it works is you have to scan both your bridge ticket and your airline ticket. On the Mexican side we got stopped to fill out a COVID19 form (https://www.aicm.com.mx/pasajeros/tips-para-pasajeros-2/aviso-importante) , then again because they wanted to see the printed tourist card receipt of payment. One thing to note for the COVID19 form, to board a plan in Mexico you need to have this form filled out on your phone, there is WIFI in the airport but if you fill it out before you can take a screenshot of the filled out form and have it on your phone, that will save you a little bit of time as everyone is trying to download the form and fill it out. By the time we got through the COVID19 screening and immigration our plane had already started boarding but we still had to go through the airport security where they again checked our COVID19 questions again. We ran to the gate and we were literally the last ones on the plane, they closed the plane door when we got on. We were very grateful to have gotten on the plane, but I would prefer not to be the last person on the plane.
For our flight we ended up taking VivaAerobus to Mexico City. They are one of the Mexican airline companies. They don't offer many services, like many airlines these days they are cheap, but they nickel and dime you for every single service. I can't complain too badly because originally I had Interjet tickets but Interjet is doing very badly and they have cancelled almost all of their flights because they can't even afford jet fuel. Despite everything I still saved over $100 USD per ticket  by flying out of Tijuana on a Mexican airline.
In Mexico City we took an Uber to the Fontan Reforma Hotel, which is in the center of the historical district, but it was also smack dab in the middle of a major protest area. Luckily the protesters were calm. AJ wanted some TV time so he stayed in the room. Denise and I went for a walk and ate dinner at a cafeteria style restaurant called Casa de Tono. Simple, but they had lots of traditional dishes, the specialty of the house was pozole.
Video: