First Impressions and Renting a Car in Cancun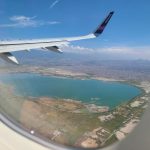 Dated Visited: 10/3/20
Despite a bumpy plane ride tropical storm Gamma did not stop us from arriving in Cancun. Arriving in Cancun Airport was chaos, so many people at that airport. It looked mostly like young Mexican families. No local cars picking up people, only taxis and transport vans, so I am guessing everyone was on vacation. 
We previously made a reservation for MexCar. The online cost was $10 USD a day but they added $27 USD a day in insurance, which significantly added to our rental cost ($37 USD per day). Good thing is it was for full insurance which covers everything that could happen to the car except getting a ticket , losing keys, or not filling up the tank with gasoline prior to returning.
The storm was still going, which made us drive slow but the highway is good and we got to Playa Del Carmen in an hour. We had previously reserved with booking.com. a budget hotel named Santa Croce, but we couldn't find the hotel upon arrival, which was strange because they had just charged our card our reservation of $80.22 USD the night before. We asked around at some locals about it and they said that hotel had gone out of business three months prior. We had to get our money back from booking.com. With no reservation we ended up driving around looking for hotels but it was getting late and I didn't like the idea of my family out in the dark with nowhere to go.
In the end we ended up going to Fiesta Inn but it cost us $360 USD for two rooms for 3 days. The hotel is not on the beach but just two blocks away, has parking, and is clean. We had an initial snafu with one of our rooms. When we got our first room keys we went to the first room but there was someone else's luggage in the room. Apparently they accidentally sold us an occupied room. Luckily no one was in the room when we found this out. We quickly left the room and got switched to another room. 
After check-in I went with my dad to walk to Walmart (about a 20 minute walk from the hotel, to try to buy food and pants. I found food but there were no pants my size. What I found is Mayan clothes are for small short people. My dad was hungry and we ended up having a lot of stuff so we ended up taking a taxi back to the hotel. No uber in Playa Del Carmen, but the costs were not that bad, $3 USD for a five minute taxi ride.
When we got back to the hotel the storm had kicked up a bit. There was a lot of wind. The power cut off a few times, but it was always brief so not a big problem. It had been a long day so we decided to go to sleep.