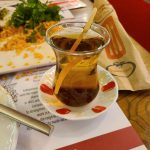 Date Visited: 11/11/2020
It is kind of crazy to think that we live in an age that an average person can get almost anywhere in the world in less than a day. How fast you get somewhere just depends on how many transfers you have to make.
Luckily for us we were on a direct flight to Istanbul from LAX. We didn't plan very well for everything shutting down in Los Angeles. The two public economy parking lots for LAX were shut down and we found ourselves scrambling to find parking that would cost less than $20 per day (hint: reserve online before you go to a private parking garage). In the end we ended up going to a place called 105 Airport parking. It was small lot and the shuttles didn't run very often, but it was $15 a day for self parking and we had enough time to get to the airport.
Going through LAX during COVID was kind of confusing. No one of course wanted to interact with you, but for some reason the kiosks (which would have allowed for no contac travel) were not working for the flights so we ended up having to go to a ticket counter. It turned out not being that big of a deal because there was not many people on our flight so we actually got through the ticket line pretty fast.
We flew on Turkish Airlines. The plane was observing social distancing so there was a space between me and Denise. AJ actually ended up getting a whole row to himself. The seat had an entertainment system but most of the time I just slept.
The flight was 12 hours but due to being on the other end of the world it felt like a whole day. We arrived in Istanbul at 1830, right when it was starting to get dark. The Istanbul airport was very long and empty. There was some kind of glitch in the computer and it took us a long time (2000 hrs) to get through customs.  Immediately we were struck with how friendly everyone was, even the security guys with big guns (security is super tight in Turkish airports) would help us whenever we needed directions. I wonder if part of it was my passport, they were very surprised to see a Mexican. The thing is if you got to Turkey on an American Passport it will cost you $50 USD, but it is free if you go on a Mexican passport.
The meals on the plane were not that great, all cold, but the cheese and eggplant was good. When we got to Istanbul Denise and I were very hungry so we went to a kebab shop next to our hotel. The way it works is you pick your meats and vegetables, then then grill it, then serve on a big plate with lots of bread. We tried lamb, chicken, and beef. The beef, which was like spiced hamburger was my favorite.
Video:

.