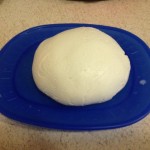 My family has a long cheese making tradition. It started about 25 years ago when two of my uncles decided they were going to quit their auto-making jobs and try something new.
Wanting to try something new I found some citric acid and some rennet (cow gut enzyme) and decided to try to make my own cheese. The type of cheese that I decided to make was asadero (ranch) cheese.
The reason why I went with asadero cheese is because this is the cheese is pretty simple in the amount of steps required to make it. For those not familiar with asadero cheese it is what most Americans think of as mozzarella cheese, except real mozzarella cheese is made out of water buffalo milk and what is labelled mozzarella cheese is actually probably asadero cheese, because asadero cheese is made with dairy cow milk.
To make asadero cheese you need whole milk, salt, rennet, and citric acid. The whole milk is necessary because you want as much cream as possible. It is preferable to get unpasteurized milk, but that is not possible in California, so I made sure it wasn't ultra-pasteurized. The citric acid helps acidify the milk to start the process of coagulation (curd making). You then add rennet in to take down the acid levels of the curds and to solidify the curds.
There are many recipes on how to make mozzarella cheese. Anyone can search for them online. I am in my own process to find the right technique to make asadero cheese.
What I found is the process was quite labor intensive. It took a long time but in the end I was able to get a nice 1 lb. ball of asadero cheese. It was a lot of work, it would have been easier to buy it from the store, but there is no beating fresh cheese taste.