The Beaches of Puerto Penasco, Mexico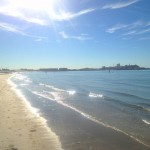 So for the first week or so of October this was our home…
Yep, not much to it. It was kind of simple but the good news was it had a great view…
There isn't much to Puerto Penasco, Mexico, but one thing it did have a lot of was beaches. That and Arizonans. At times I wondered if there were more foreigners than locals, but considering Puerto Penasco was basically founded by a foreigner (Al Capone build the first permanent structure) it kind of made sense.
Puerto Penasco, Mexico is a small town about 3 hours south of Arizona. As part of the Mexico Free Zone, this is a special zone where tourists are not required to have a tourist visa, it was very easy to get to. While there we spent a lot of time on the many beaches the town had to offer.
Playa Bonita

Playa Bonita was our base camp for the week. The resort we stayed at was called the Playa Bonita RV resort. It was $24 a night for a full hookup site. The amenities for a camp site were pretty good. It had electricity, wifi internet, a spa, and the best water pressure in a shower I have seen in all of Mexico. Looking at the RV park you could tell that some of the people had been staying there a long time. The even had a little club that they let us use which was nice. Most of our days were spent playing in the waves. On one day my Brother-In-Law rented a jet ski and gave our son a ride. AJ liked that a lot.
The Reef / Camino del la Cholla / Sandy Beach
Along the way to Puerto Penasco we saw two advertisements A LOT. One was about a free breakfast at some café (which we never found), and the other one was about Wrecked at the Reef.
I didn't go inside the Wrecked at the Reef Café but considering the threshold warned about not exiting with alcohol I figured it was not the place for me. Though as the name implied there was a reef. At the reef we did a lot of snorkeling. It was kind of reminiscent of the days before I was married and used to scuba dive a lot. Only the water in the Sea of Cortez was a lot warmer than the Pacific, so no wetsuit was required.
Playa Encantada
One of the last things we did in Puerto Penasco was to look for seashells. Every beach we went to had lots of seashells, but the largest ones we found were at Playa Encantada. The name translates to the "Enchanted Beach". I am not sure about that, but it was very quiet. Being farther out than most of the resorts and having mostly empty houses we had the beach pretty much to ourselves. We spent about an hour collecting some really big seashells.