Walt Disney Concert Hall, Los Angeles CA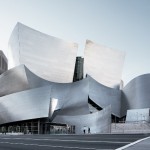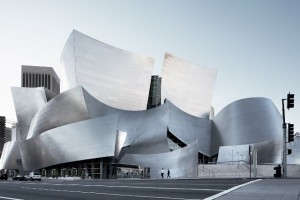 A few years ago when AJ was little and I (John) was out of town on business Denise went out to downtown Los Angeles with AJ in a stroller. Being a downtown LA explorer, Denise has been encouraging me for sometime to take the audio tour.
I am not sure I can add anything to the knowledge of the Walt Disney Concert Hall that you can't readily access via Wikipedia. The Disney Concert Hall was finished in 2003. It is located on Grand Ave. and is in walking distance to both the Civic Center and Pershing Square Metro Red Line.  It is home to both the LA Philharmonic and the LA Chorale.
Tickets at the Walt Disney Concert Hall can be expensive, but the good news is that the audio tour is free. All you have to do is leave an ID card for collateral for the tour wands.
It should be noted that there are elevators, but there are a lot of stairs in the concert halls, so make sure you have some comfortable shoes, although I did see one lady in high heels walking up 5 flights of stairs (how did she do that?!).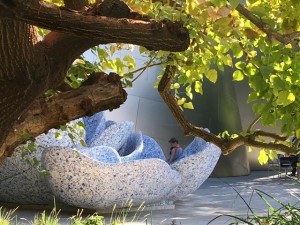 The tour was interesting, but I have found that when it comes to architecture I prefer more flourishes and decorative touches. The would paneling of the concert hall gave it a warm feel, but the overall simple ascetics of the was too bland for me. My favorite part of the tour was the back of the concert hall where they had a little garden. In the garden they have a rose fountain made out of Delphine China. Apparently Mrs. Disney was a big fan of Delphine China and collected it on all of her travels. Her favorite flower was the rose. The architect decided to make a fountain out of Delphine China. According to the story there is cheap china and expensive china. The architect went out to find cheap china but when Delphine found out what they were going to use the china they insisted the concert hall use the expensive stuff. So the fountain has a bunch of very expensive broken plates in it.