Cathedral of our Lady of Los Angeles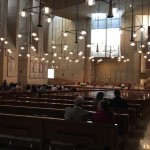 In the 13th century St. Francis of Assisi (Italy) was given the small chapel of St. Mary's in which to use as a base of operations. It was not a very good chapel and had to be rebuilt, which is said he did by hand after hearing the world of God come to him and say "Go and restore my house." According to the story while praying in that chapel during Mass he got another vision that said to "go forth and preach penance and conversion to all mankind" and so was born the Franciscan order in the Catholic church. In the Franciscan order this revelation is celebrated on August 2nd.
Fast forward to Wednesday, August 2, 1769, Father Juan Crespi, a Franciscan priest accompanying the first European land expedition through California, led by Captain Fernando Rivera Y Moncado, talked about a "beautiful river from the northwest" located at "34 degrees 10 minutes". Recognizing the amazing coincidence of the date, and seeing as though they were Franciscans they named the river Nuestra Señora de los Angeles de la Porciúncula. Thus Los Angeles got it's name.
In the hallway of the Cathedral of our Lady of Los Angeles is a sacred stone from the original St. Mary's Chapel in Assisi, Italy. The stone symbolizes the spirit for which Los Angeles got it's name. Los Angeles is a place to be explored and so is the Cathedral.
The Los Angeles Cathedral sits on a huge plot of land on Temple St. that overlooks the 101 freeway, which intersects the heart of Los Angeles. It was opened in 2002 to replace the Cathedral of Vibiana, which had previously been the cathedral of Los Angeles, that had been severely damaged in a 1994 earthquake. There was a lot of back and forth on what would be done with the damaged cathedral, but in the end the old cathedral became a public library and the Catholic Church constructed a modern cathedral.
As a modern cathedral the lines a very sleek and minimalist. Though minimalist in nature there are antique touches throughout the building. One of my favorite example of this is downstairs in the mausoleum. The mausoleum is very modern looking in with clean lines, housing the final remains of important and famous people such as Gregory Peck, Chief Justice Malcom Lucas, Bishop Thaddeus Amat y Brusi (first Catholic Bishop of Los Angeles), and even Saint Vibiana (a martyr from the 3rd century). Despite the modern look, the mausoleum is decorated with the stained glass windows from the old Cathedral of Vibiana.