September 2016 Randomness
Haven't been very consistent on the blog lately but life as always moves on. In September there were four major happenings for the Pedroza family. In this blog I will talk about our trip to Arizona, Denise's Birthday, and Amy's graduation from Bible school. Yeah that is only three but I am kind of pressed for time and I am hoping to write about the fourth event later when I have more time, but my guess is most people reading this blog already knows what happened.
Arizona Trip
Denise has a large family which means we have a lot of nieces and nephews, I guess it doesn't have to mean that, but with us it does. This month one of our nephews in Arizona turned eight and he invited us to his baptism so we took a little road trip. In addition to going to the baptism and visit with relatives we were able to able to walk around both Tucson and Phoenix. I play a game called ingress where you get little patches for visiting different points of interest, so it was fun walking around and getting to learn about new places.
Denise's Birthday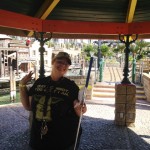 September is Denise's birth-week (yes it is not a birthday). This year Denise turned 40. Most women would not talk to you ever again if you published their birthday, but not Denise. Quite the opposite, she is more than happy to tell you all about her age. One of greatest attributes of Denise is that she is very comfortable in who she is. I (John) know she met with lots of people for her birth week, so I can't say all of what she did. With AJ and I, we spent the day at miniature golf and at Chipotle.
Amy's Graduation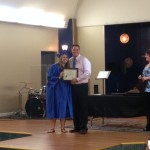 This month I (John) also went down to South Gate, CA to see my sister's graduation from bible school. For the last two years she has been going to Teen Challenge bible school. Bible school may seen trivial to some but for my sister this is a great achievement as it means that for I think in the first time in her life she has a purpose in life. Which the lack of which can destroy you, so for her to have one makes me happy. I am excited for her future prospects.
So with that life moves on at the Pedroza household. AJ is very excited about Halloween coming up. He has told me he wants to be a dragon, should be interesting. Denise says she is planning to have less items on her "to do list." I (John) plan on being occupied with work stuff for the next few months. If I am lucky I might be able to get out and do a few weekend trips here and there.