Robot Restaurant, Shinjuku, Tokyo, Japan
In many ways Japan is very normal. It is a land of hard working people that get up and go to work every day. On the other hand Japan is very different from the Western world. There are things that you will see there that you can't even imagine back home. Case in point is the Robot Restaurant. I asked Denise to describe the place and she said, "it is proof that Liberace can still exist in the modern world." The decorations are over the top but it is more than just decorations.
Making the decision to go to the Robot Restaurant was one that I (John) hesitated on. It was for one thing kind of expensive, about $80 per person which included a bento meal. The second thing is it is located in the middle of Kabukicho (the red light district). It used to be that you had to be over 18 to get into the show and early reports said that it was not a place that any respectable person wanted to be caught in. Other reports however gave a different picture, saying that the show had changed and was now more family friendly. In fact when I was doing my final research I found that there was a discounted children's ticket. Knowing that there were decency laws in Japan we decided to take a chance and buy a ticket.
Tickets for the show were very popular and we had to book several days in advance. The day we were able to get tickets just happened to be the same day AJ and I (John) were scheduled to return from our Mt. Fuji hike. The tickets we got were for 7:15 p.m. and we were scheduled to return from Mt. Fuji at 2:30 p.m., except it took us longer to get down the mountain than we thought and ended up getting back to Tokyo at 4:30 p.m. It was just enough time for AJ and I to take showers, get changed, and run out to the metro station. As a result of the short rest my feet were still pretty sore from the climb, but I was able to hobble my way to the show.
Shinjuku station is always a bustle of activity. At night it is even more so, as the night lights come on, the Japanese come out to see them. The short walk to the Robot Restaurant was very colorful. There was lots of people and lots of flashing lights, but there was no mistaking where the Robot Restaurant was. It was the flashiest of all the places in Kabukicho.
The outside of the restaurant was just a preview of what was to come. Inside the building was even brighter than the outside. The rules were very clear that there was no flash photography allowed but the lights inside were so bright, that taking pictures were no problem. The first thing we were told to do was wait in a lounge, which was very over the top decorated. There we were entertained by a guy dressed up as a robot playing an electric guitar. At the bar there was a little robot that would speak broken English.
After the man with an electric guitar finished we were let down some flashy stairs to the basement for the main show. The seating was assigned and was very compact. Denise and I got sushi bento boxes and AJ got a beef and rice bento that was heated with a built in heating element. The show is hard to explain but it is a high energy, in your face (literally), high volume show. It was broken into four acts in which there was a break so that they could set up for the next act. It was a very engaging show if only for the fact that you never knew what or who was going to show up. The show was catered mostly to foreigners in that the dialogue was all broken English with English and Japanese subtitles.
Here is a little video to give you an idea of what we saw: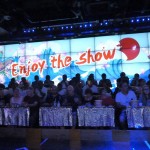 This kind of show is kind of a once in a lifetime thing, I am glad we saw it once, but I doubt I would pay to see the show twice. Looking out to the audience it was hard to say that this was an authentic Japanese experience. I was told that the manager was an American. I only saw two other members in the audience that looked like they were from Japan. Yet, this was a show that I have never seen anything in any other part of the world and for that I will call it a Japanese experience. I am still sure what we saw, it was kind of like a dream, but a dream I definitely will not forget.