Visiting Berlin Germany by Train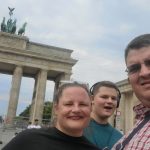 As the Capital city, Berlin, is in the middle of the country. This poses a minor problem because cruise boats don't don't really travel well on land, actually they don't travel at all on land unless maybe they are in dry dock. Luckily the port town of Warmunde has a solution for that, the train. Warmunde was one of the few ports on our Baltic Cruise in which we would get a complete day. Disembarkation was 0700 hrs. and embarkation, all aboard, was 2130 hrs. (9:30 p.m.).
The train station in Warmunde is very convenient if you are on a cruise ship because the train station is just across the street from the cruise port. The Warmunde train station was kind of long but it only took us 5 minutes to get to the platform where we needed to be. The IC 2175 is an inter-city train that travels from Warmunde to Berlin and back twice a day. There is first and second class, we had second class. We weren't exactly sure when we got on the train that we were in the right place because all the seats had seat numbers and our ticket didn't have seat numbers, but no one asked us to leave and the conductor didn't say anything to us when we she took our tickets. The cost for three round trip tickets were $125 dollars, we got a bit of a discount for making the reservation online. There are several English speaking ticket sellers, we used Omio, but you can use any authorized Euro train seller.
The Berlin Central train station has been in Germany since 1842, but has a long history of being reconstructed. The current version was finished in 2006, just in time for the World Cup, and is a glass behemoth.  The Berlin Central station is huge, there are five stories and I saw about 20 platforms. With trains coming in on various different levels and directions it can be a bit disorienting. It was kind of hard just getting out of the train station, but luckily it was very easy to get around once you were out of the train station.
Our first goal was to reach the Reichstag, which is the center of the German government. Entrance to the Reichstag is free, but you have to make a reservation in advance so they can do a mini security check on you. The tickets we had allowed us to go to the top of the Reichstag and walk around the glass dome. There was an audio guide in several languages and when you reached certain points in the dome it would give you some history of the area. The Reichstag has been destroyed several times and is located right where the Berlin wall was located in the 1960s. As such the architecture is a mixture of 1800s and modern. The glass dome does a little bit too good of a job in keeping in heat and was really hot, even though it was cool outside. At the bottom we could see directly into the assembly hall where politicians voted on laws. Germany is a representative democracy, with representatives from each state being led by a prime minister.
Outside the Reichstag we toured Berlin by following a three hour audio tour by Rick Steves. The audio tour was free, all you had to do was download the Rick Steves audio tour. The audio tour was really well produced, it showed you all the major sites for Berlin and it included a map so we never felt loss. Some of my favorite places we visited on the tour were the Brandenburg Gate, the Academy of Arts building, Humbolt University, and Museum Island. Things that were not on the tour that I enjoyed was the Lindt flagship store (so many chocolate options). The tour ended at the Alexanderplatz station, which was a convenient  elevated train ride back to Central Station.
One thing that is an absolute rule on cruise ships is embarkation time. If you are not on the ship at embarkation time, the cruise ship will leave you and you are on your own to rejoin it, the only exception to this rule is if you are on a ship sponsored tour, which in that case they will take responsibility if you are late. We were too cheap to ever take a ship sponsored tour, but when making our travel plans I purposely put in extra time in the schedule so we wouldn't break this cardinal rule. As such we were at our train station platform two hours before it was scheduled to leave, the train would arrive in Warmunde at 2000 hrs (8 p.m.), which would be more than enough time to be back on the cruise ship. We got to the train platform, I looked at the sign and I saw IC 2174, that was our train, everything was good until about 5 minutes before the train was scheduled to leave, then IC 2174 just disappeared. I didn't know what was going on until I raced up two platforms and discovered that the train had made a last minute platform change, by that time it was two late, the train had left without us.
We frantically searched for alternative options , there were other trains, but they would have all gotten us back to Warmunde after embarkation time. We found a travel information office and asked them if there was any other options and they just basically laughed at us, Berlin was 240 kms. (about 150 miles) away from Warmunde. Finding no help from the travel information office, we went out to the street to ask taxi drivers if they could help us. Most did not want to even consider our proposal, I did find one taxi driver who said he would drive us for $700 Euros, but he wanted it in cash. I only had $100 Euros on my me and the ATMS only allow you to take out max $400 Euros at a time, so that idea was out. Time was a running out on us, I had to figure out something to do, but I remembered a crazy Mr. Beast video I once saw in which he got an Uber from New York to Los Angeles, figuring our distance was much less I opened up the app and gave it shot. As predicted many drivers dropped the ride almost as soon as they accepted it. It took awhile, but eventually a driver did pick up the ride. By this time I was several inter pages into how to make last minute flight plans to Estonia. Anyhow, the driver came and he confirmed my name and the destination. I noticed right away he was not German. Turned out the driver was Syrian and spoke Arabic, but before coming to Germany had spent time in Turkey, so I got to to use my Turkish once more. I was surprised how much I remembered, teşekkür ederim türkiye.
The drive from Warmunde to Berlin was an adventure in itself.  Due to the distance, we soon found ourselves on the autobahn. Despite the time delay with the train we found that we still had plenty of time to make it to the port before embarkation. The speed limit on the autobahn is 160 km/hr, which is about 100 miles an hour. I was able to communicate to the uber driver our predicament and we went as fast as he could, but had an app that warned him when we were approaching a traffic camera.
In general German cars were very orderly. I never saw anyone driving erratically and/or trying to cut anyone off. Like in Mexico most roads had two lanes, but you only used the first lane to pass people. One driver however went a little bit too fast on a curve, hit the curve, and then immediately exploded. The car was instantly fully engulfed, there was nothing that could be done for the driver. As such all the cars on the road with us instantly moved to the right of the road. Despite being in the middle of the countryside several emergency vehicles came rather quickly, there was even a helicopter. If this had happened in California , maybe one or two cars would have stayed, but most cars would have tried to get around the wreck. That did not happen in Germany, everyone stayed, made sure the emergency crews had all the room they needed, and surprisingly the scene was cleared in about an hour.
The hour delay however was too much for us. I could see on our app that the best case scenario was that we were going to get at the cruise terminal at 2145 hrs. (9:45 p.m.). We were too close however to stop now and despite our driver's insistence on stopping for gas less than 2 k.m. (about a mile) from the ship, we still got to the ship while it was in port.
There is a phenomenon in the cruise industry known as "pier running", this is the act of humiliating those that come after embarkation time. There were a few people on the ship cheering us on, but the cruise ship crew just wanted us to get on the ship ASAP. While boarding the ship I got pulled aside by the Crew Security Director. He was an Englishman and started giving me what I would call a "responsibility talk". I turned to him and said "I am very sorry we are late and cost you time, but to be frank with you I just saw a man die and nothing you can say to me right now is going to make me feel repentant." At that point he looked me in the eye said "welcome aboard" and that was the last I heard from that guy.
As we were boarding the ship, the crew was pulling in the ramp. I noticed they gave four passports to the dock-master, which means we were not the only ones late to the ship. At that point I  was beat. I went to the buffet got a soda, some snacks, and then went immediately to bed. The trip to Berlin was great, but if I could never be a "pier runner" again, I would be OK with that.
Video: