The Unexpected Port of Karlskrona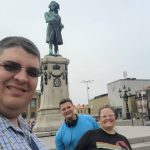 When we were originally planning our Baltic cruise there were several ports that got changed along the way. Karlskrona, Sweden was one of the ports I wasn't excepting. I knew we would eventually end up in Stockholm, but I didn't know anything about Karlskrona.
Karlskrona, has a population of about 66,000 people but walking on the peninsula based city I didn't notice it, there were very few people out on the streets driving or walking, my only guess is they were on some sort of holiday and/or already at work not in Karlskrona. The port was a tender port for our cruise ship, meaning there was a not a dock big enough to port the ship, well there was the huge navy base, but they don't let cruise ships go there.
Karlskrona was founded in 1680 by the Karl XI of Sweden, hence the name. It was created as a navy port on newly conquered land because Sweden was looking for a port that wouldn't freeze over during the winter. When Karlskrona was founded Sweden had this alliance going with the Hanseatic League, which was kind of like a German mafia type trading association. As such, if you look at the old buildings you see both Swedish buildings and German style buildings. Which means Karlskrona is known as Sweden's only  baroque city.
A little train greeted us at the dock and so did two guys dressed up in traditional Swedish naval uniforms. The train took us to the top of the city to the plaza, which we were met with a statue of King Karl XI himself. True to form there were two  churches at the top of the town. The Fredrikskyrkan church is traditionally Swedish in design, beautiful and functional. The Church of the Holy Trinity is probably what most people would call more traditional, it has this beautiful domed wooden roof that reminded me a lot of the Parthenon in Rome.  The city center is very charming and we enjoyed walking through the Hoglands Park that had beautiful flowers and nice statues.
As mentioned Karlskrona was first founded to house the navy, a tradition which still continues today. In fact when were there I noticed there was a build up of navy ships going on, I think this was because Sweden and Finland just joined NATO. It was also interesting that when we got off the tender boat they gave us a map and about a third of it was greyed out and said "don't go here". That said I feel like I need to mention the Karlskrona Naval museum. It is a very interactive museum, that is completely free. When you go there you can see many interesting things including the HMS Bremön, which was the minesweeper that intercepted a Russian submarine that grounded in 1981 and caused a major international incident because Sweden and Russia were supposed to be at peace with each other.

Overall Karlskrona was an unexpected surprise for us on our Baltic Adventure. We were not at the port town for very long, but thanks to the transportation given to us by the Swedes, it was very easy for us to get around. The free train dropped us off at the the top of town and we kind of slowly meandered our way back to the dock area.
Videos: