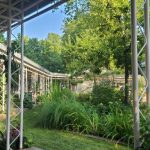 As mentioned in my previous post the Danish value the good life. It has made them one of the happiest countries in the world. So it comes as no surprise that the Danish know how to have a good time. It is basically part of their nature.
Tivoli Gardens opened on the 15th of August in 1843, which makes it the third oldest amusement park in the entire world.  It is the most visited amusement park in the Scandinavian countries and the fifth most popular in all of Europe. The park was the brain child of Georg Carstensen who told King Christian "
when the people are amusing themselves, they do not think about politics
". So Tivoli Gardens was always meant as a place for the Danish to forget about their troubles. As such the buildings in Tivoli Gardens are very exotic looking. In 1943, when the Nazi's invaded Denmark, many of the original buildings were burned, but the gardens always remained an attraction. Our admission to the park was included as part of our Copenhagen card, but we still had to pay about $8 euros/usd for each ride, there was also a unlimited ride band you could buy for about $35 euros/usd.
Video of Tivoli Gardens:
Before we went to the park we got hungry and went to a McDonalds. I almost never go to McDonald's in the USA, but I find them fascinating in every other country. It is a mix between the familiar and unexpected. You know you will find certain staples like the cheeseburger and the big mac, but then there are local items that make a unique experience. Going to McDonalds in Denmark was no exception. We not only found unique food items like chili cheese bites and lemon cake mcflurries, we also saw unique delivery systems. The conveyor belt system that delivered the food was very cool. McDonalds in Denmark was a little bit expensive. The Big Mac was about 8 euros/usd.
Video of McDonald's in Denmark: