A Brief History of Denmark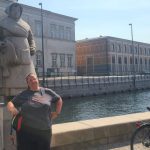 I am not really qualified to teach you Danish history but the little of Danish history I learned while in the country was very interesting and since it involves an ancestor of mine (part of my family tree is Danish) I am going to write it the best I can.
The Danish are some of the oldest people known on the planet. Know one knows exactly when they formed as a civilization but there is plenty of archeological evidence that they were forming fishing groups around the Ice Age, which makes them at least as old as 10,000 BC. The Danes are a seafaring people and master ship builders who conquered wood, bronze and iron. This all lead them into eventually becoming vikings. Which is not what they called themselves, because the word viking is an old Scandinavian term that basically means pirate, they would have preferred to be called Norsemen.
The whole viking thing probably really came from the English, French, and Spanish people who were constantly getting their coastal towns raided by the North. The English, French, and Spanish would have loved to take them over but considering not even the Romans were able to do it, those countries had even less of a chance.
The people of the North were a pretty wild bunch until my ancient grandpa King Harald Bluetooth (yes I am related to him and yes they named it after him) came to power in 965 AD. Bluetooth was so powerful he conquered what is today Denmark, Norway, Latvia, Lithuania, Estonia, and some of Sweden. King Bluetooth was good but it always takes a woman to do things right so it was Queen Margrethe I , who in 1397 formed what was called the Kalmar Union. This was the ultimate Scandinavian empire, it ruled Denmark (including Greenland and Iceland), Norway, and Sweden.
It was awesome, but there was a problem, the Germans. Well sort of the Germans, because they never really called themselves Germans. First it was this thing called the Hanseatic League, which was like a trade organization with guns. Then it was the Duchies of Schleswig, who kept telling the peasants they had rights, but once they had power took away the peasants rights. World War I came and the Central Powers came and took away some land, but then they lost and had to give it back. The Nazis trampled Denmark in World War II, but they eventually lost as well. It is therefore not surprising, that even though they are a founding member of the UN, NATO, and the EU, they were not having anything to do with a currency regulated by Germany, thus Denmark uses the Danish Kroner.
Denmark today subscribes to the idea of hygge. Translated into English, hygee means comfortable, cozy, and generally good. Hygge is about enjoying the small things in life and having those you love around you. About the best thing a citizen of Denmark can do is pack a lunch and motorboat around a waterway (they have over 400 islands). If there is a public holiday, good luck finding everything open, because there is a good chance a Dane is out having as much fun as a tourist.
This lifestyle gives one lots of time to think so it is no surprise that that Denmark is known for design which takes a lot of thought. They also have great writers like Hans Christen Anderson and philosophers like Søren Kierkegaard.
Tradition is steeped into the Danish way of life. It's flag is the oldest in the world, although it doesn't come from Denmark (that is a story left for when we get to Estonia). København, the real name for Copenhagen, is a city that blends together all the traditions of Denmark. There is a queen, cobblestone, bicycles, canals, and even a statue of a mermaid. Which is probably the most famous thing in Denmark, but it doesn't even make much sense, but that is the way things are and if the Danish are good with it, then so be it.
Things to do in Copenhagen are all over the place, we had a Copenhagen card which costs $60 eur/usd a day, but it gives you access to all of the major attractions, transportation, and your kids under 12 come along for free.
Canal Boat Tour Video: