Cruising in Europe on a Ship: The Good, The Bad, and the Ugly.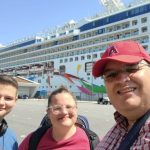 So to travel through the Baltics we were on the Norwegian Dawn for 8 days. The Norwegian Dawn is a part of Norwegian Cruise lines. This was not our first time cruising, we had been on two Carnival cruises to Ensenada / Catalina Island previously, but those were very short cruises. This was what we considered to be our first cruise of any serious duration. As such I wanted to talk about some of the good and bad that go into cruising.
First of all the good. I wanted to go to Europe this Summer because I had the time, and in a rare moment, I had some extra money from some time that I had cashed in at work. Looking to maximize my time and visit the most amount of places possible I decided a Baltic Cruise was the way to go. This cruise had a different port every day, no sea days, and it helped Denise out in two ways. One on board the ship she only had to unpack once and the whole hotel moved with her. Not only that, on a cruise you get an abundant amount of food and entertainment. The food was not only 24 hrs., it was high level quality. We had things like prime rib, shrimp, filet mignon, and pasta in too many ways to count. As a special bonus we won our bid to get upgraded to a Club Balcony Mini Suite and on the embarkation day I won a $150 gift certificate to the spa. Most of the staff on the ship are super friendly and helpful, if they didn't know what you wanted they would find an answer. I remember asking our cabin steward something, forgetting about it, and the next day he found me and told me the answer. Almost any request we had was granted.
The upgrade did come with a caveat, we had to agree to let them place us wherever they wanted. Our suite was one story under the buffet line. At night it wasn't so bad, but in the afternoon we definitely heard people walking above us. Prices on a Cruise Ship are very skewed. For example, you think winning a $150 gift certificate would get you lots of spa services, but on a cruise ship that doesn't even pay for one massage, the regular price for a massage was $197, so I still ended up paying out of pocket. Life on cruise ship is pretty easy, but one firm rule is embarkation times, which can sometimes be harsh. First of all it is cool to visit so many places, but you often don't have that much time. In some places we were only let off the ship six hours before we had to get off the ship and even then you didn't get the full six hours because if it was a tender port (meaning you had to drop anchor and take a little boat in), the tenders were prioritized. Luckily, for us we had priority access, but even then the cruise tours got priority over us on the tender port. We did not take any cruise tours because like the spa, the prices were very high. The cheapest tour I saw was $59 for a hop on, hop off tour, which I found out you could book directly for $30 (at the time of our sailing the Euro and the US dollar were equal).
The only ugly thing I have to say about cruising is the staffing. First of all I noticed right away that they were understaffed. It was notable that many of the staff were first time cruise staff. We had a soda package that included soda at any venue, but every day I found myself going to the pursers desk to take soda charges (which can add up fast, the soda package was definitely worth it for us) off my onboard credit bill. The ship had this very fun club for teenagers called Entourage, which I know was fun because once our teenager went there we didn't see him again until it closed. The problem however is there was only one club counselor for 90 teenagers. She did a phenomenal job, if you told me to control 90 teenagers, the ship would have gone down in flames, but she somehow kept them all happy, but still that is too much work for one person. Our cabin steward had 25 rooms he was in charge of, that is too much as well. I could see that all the staff was working long hours. One morning I saw a crew member accidentally break a plate at the morning buffet. An officer saw it too and started yelling at the crew member, how embarrassing must that have been for the crew member. Mistakes happen and that crew member might have needed a talk with management, but not in front of the guests, that was bad. It made me wonder how well Norwegian treats its staff.
Cruise ships are big and beautiful, but they are not without their setbacks. There is a lot of plus and minuses to cruising. There are definitely a group of people out there that love cruising and there are those out there who would never step foot on a ship. To me cruising is just another medium of travel, if it works for the particular trip I am on great, but if not I know there are lots of other ways to travel. So how about you? Are you in cruise love camp? Or do you try to avoid it at all costs?
Video: