US Capitols: Oklahoma City, Oklahoma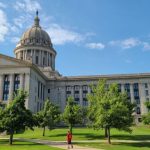 Date Visited: July 6, 2021
Oklahoma City is the Capital of the State of Oklahoma, but most people just call it Oklahoma and then you kind of guess with the context if the person is talking about the city or the state. If the locals are writing about Oklahoma City they just write OKC.
Oklahoma City was founded in 1889 as part of what was called "The Land Run." The federal government had recently cleared this land from Native Americans and they had this race and the person with the fastest horse to these land marking flags got the land. Due to all this land the then territory grew quickly and by 1907 Oklahoma was ready to become a state.
Centrally located Oklahoma turned out to be a great gathering point for all the cattle in the region and eventually the Oklahoma Stockyards became the largest stockyards in the United States. In the 20s Oklahoma became a major rest stop on the famous Route 66 to California. Everything was growing great until World Ward II came along and then things started to deflate.
The Federal government took up the slack once again and in the 80s started to develop a lot of Federal installations in downtown Oklahoma City. These Federal buildings would become the target to a home grown terrorist, who in 1995, detonated a semi-truck full of fertilizer killing 168 people and wounding 800 more.
These days Oklahoma City is growing once more. Leaning into it's western roots, OKC has rebranded itself as a modern cowboy town. If you go there you can still visit the stockyards and have your very own Presidential Steak (as declared by former President George H.W. Bush in 1992). After you get your steak you can visit the National Cowboy museum and maybe even catch a basketball game.

Oklahoma City Capitol Video:

Cattleman's Cafe Video:

Oklahoma City Bombing Memorial: