Mexican State Capitols: Campeche, Mexico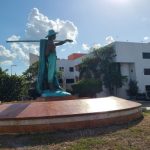 Date Visited: 5/12/2021
I remember when I was a kid that there was a game that I really liked called Sid Meier's Pirates! In this game you would be a sailor and you would sail different ships and you could be Spanish, French, Dutch, English, or just be an outright pirate. The map in the game was historically accurate and each town was mapped out very well. I remember Campeche, who was part of the Spanish, was in the game and it was a tough city. The reason why it was so tough was because it had this giant wall that surrounded the city and the guards would shoot at you (who was playing the role of a pirate) way before your ship ever got into port from this really tall brick wall. Little did I know this was also historically accurate, Campeche does have a very formidable wall that to this day mostly stands.
Today Campeche is only invaded by the occasional tourist. Despite it's beautiful beaches, it isn't a place where a lot of foreigners visit. My guess is that has to do with the fact that there are not many luxury hotel options in Campeche. The hotel we stayed at was good, but it was an old colonial mansion, so there was no air conditioning or elevator, there was a pool. There isn't much public transportation but it is one of the smallest state capitols, so most people just walk or bike to where they want to go. The city is a sleepy laid back vibe, but they do like to be sociable. At night the restaurants are allowed to put out tables and chairs in the streets and the people like to have dinner outside under the stars.
Campeche is also a great hub for pre-Hispanic ruins. There is a little museum in the plaza and 12 different abandoned Mayan cities within the state. Not many people visit the sites because they are not so well known, but the jade is amazing.
Video about Campeche: