Mexican State Capitols: Villahermosa, Tabasco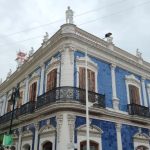 Date Visited: 5/13/2021
Overall what you will notice about Villahermosa is how green it is. The city has some wonderful parks. Villahermosa means the "beautiful villa" but in Mexico it is known as "Capital del Edén" (Eden's capital). This is due to the two rivers Carrizal and Grijalva that cross the city and give opportunity for some amazing park spaces.
Also crossing the Villahermosa is the Mayan and Olmec cultures that push forward in influencing the current culture. Villahermosa has some of the most distinguished pre-hispanic museums in Mexico, but they are not visited that much. So the bonus is if you go, you will probably be by yourself or very few people.
This pre-hispanic influence manifestly prominently in the gastronomy which has some very interesting entries such as pejelagarto (which is a alligator looking fish), chiltepin (a small ball like chile), tamales, chirmol (a tomato based salsa), banana bread and coconut tortillas.
Villahermosa historically has been known as a city that has been invaded. It started in the 1500s with the invasion of Spanish over the Maya, then in the 1700s with the English, in 1846 with the US, in 1864 with the French, in the 1920s by the people of Villahermosa themselves, and today by trendy coffee shops. The city has grown a lot, with the current president of Mexico coming from Villahermosa the city has seen a lot of investment. Many people have been coming into the area with the new job growth.
Video Introduction to Villahermosa