Tuxla Gutiérrez, Chiapas, Mexican State Capitols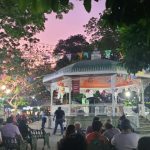 Date Visited: 5/11/22
The state of Chiapas is traditionally Mayan, but curiously it has an Aztec name. This is because in 1486 the Aztecs invaded the then named Mayan city of Coyatoc and changed the name, both words mean "place to hunt rabbits." The Aztecs would not however keep the city for long because in 1518 the first Spanish soldiers sailed down the now named Grijalva River to take over the area.
During the colonial period the Spanish ruled Chiapas as a state of Guatemala colonies, which worked for several years until in 1810 Mexico declared independence and started a war with Spain. By 1821 the war got to Central America, specifically Guatemala. Guatemala ended up breaking up, most of those states that broke up became their own countries, but Chiapas decided to become part of Mexico. The leader of Chiapas during that time was a man named Joaquín Miguel Gutiérrez, he would become the first governor of Chiapas and later would be honored by adding his name to Tuxla Gutiérrez.
Things in Tuxla Gutiérrez have modernized in some ways and in other ways things remain the same. Chiapas today remains primarily of Mayan decent, you will notice this in the food and dress of the people. There is this kind of strange thing that happens when you get closer to the border that the tortillas get smaller in the south and larger in the north. Chiapas is no exception to this rule and they have really small tortillas.
Music is a constant in Chiapas. The most traditional sound is that of the marimba which is an instrument that is like a xylophone but modified in Africa. The marimba has a great resonant sound. The people of Chiapas refer to themselves as Chiapanecos and they are very proud of their marimba music. Every night from 5:30 pm to 8:30 pm. there is a free marimba concert in the square known as Marimba Plaza. Sometimes an occasional salsa is thrown in the mix but the marimba is always present.
Dancing usually happens at night because I think if you tried to dance during the day you would turn into a puddle of water. That said there is lots of humidity in Chiapas. There are many rivers that surround Tuxla Gutierrez and the heats turns the air into a steamy landscape. If you can, it is advisable not to be out from 12pm to 3 pm. when the sun is at it's strongest.
The city of Tuxla Gutierrez has a few sites, such as Marimba plaza and the cathedral but the best part of Tuxla Gutierrez is that it provides a central point for excursions out to the rest of the state. There are four Pueblo Magicos (magical towns) in Chiapas, they are San Cristóbal de las Casas, Chiapa de Corzo,Comitán de Domínguez , and Palenque. You can easily find tour operators to all those towns from Tuxla Gutierrez .
Video about Tuxla Gutierrez: