Tips For Running: The Power Song List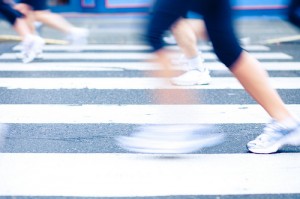 As the half marathon is now less than a week away I am focusing on getting ready for race day. I have been tapering down my distances, made a motel reservation, and most important I am honing in my power song list.
For me music is essential for running. I am slow but I know I would be even slower if I did not have music playing in the background. I have experimented on this in the past and hands down I do better with music.
I plan on finishing the race in 3 hours and 20 mins. or better. The reason for this is because 3 hrs. and 20 mins. is what I did on my last run and I want to beat it. It would seem an easy task to pick songs for this but it is not as easy as I thought it would be. First of all 3+ hrs worth of songs is a lot of music. Second, you need to pick songs that are upbeat, but not songs that are so fast they will tire you out.  In all the list ended up being 47 songs. In reverse order of how they are playing here are my 47 power songs:
47. Clocks – Coldplay
46. Man In The Mirror – Michael Jackson
45. Good Vibrations  – Marky Mark and The Funky Bunch
44. Party Rock Anthem – LMFAO
43. We Built This City – Starship
42. Real American – WWE Anthology
41. Vacation – The Go-Go's
40. Conquest  – Bill Conti
39. Scenes From An Italian Restaurant – Billy Joel
38. Samba E Gol – Vincenzo Bellini
37. Reach – Gloria Esefan
36. I Want Candy – Bow Wow Wow
35. Rendez-Vous '98 – Jean-Michel Jarre and Apollo 440
34. I Gotta Feeling – The Black Eyed Peas
33. I Can't Get Next To You – The Temptations
32. I'm Gonna Be – The Proclaimers
31. I'm Free – Kenny Loggins
30. Hot Legs – M.A.T.C.H.
29. Fighter – Christina Aguilera
28. Holiday Road – Lindsey Buckingham
27. Hearts On Fire – John Cafferty and The Beaver Brown Band
26. Groove Is In The Heart – Deee-Lite
25. Give It All Up – The Corrs
24. Riders In The Sky – The Outlaws
23. Get'cha Head In The Game – Troy
22. Footloose – Kenny Loggins
21. Firework – Katy Perry
20. Ride Like The Wind – Christopher Cross
19. East Bound And Down – Jerry Reed
18. The Final Game – Jerry Goldsmith
17. Eye Of The Tiger – Survivor
16. Everybody Wants to Rule the World – Tears for Fears
15. Draggin' The Line – Tommy James
14. Don't Stop Believin' – Glee Cast
13. Dare You to Move – Switchfoot
12. You Get What You Give – New Radicals
11. Dancing In The City – The Party
10. Cruisin' Route 66 – Brian Hughes
9. Tryouts – Jerry Goldsmith
8. Beautiful Day – U2
7. 1901 – Phoenix
6. War/Fanfare from Rocky – Vince DiCola
5. Walking on Sunshine – Katrina and the Waves
4. Training Montage – Vince DiCola
3. Top Of The World – Chumbawamba
2. Bugler's Dream / Olympic Fanfare – John Williams
1. Right Now – Van Halen
I think the list is a very interesting mix. Some songs are classics and some are new. Most of them have vocals but some are just instrumental. It is not surprising to me that the Rocky movie soundtracks make many appearances on my list. Out of all of these songs Firework by Katy Perry is what I call my "Power Song." You will notice I put that song in the middle. This is my go to song. My hope is that when I am halfway through and I am starting to feel the burn it will pick me up. It is a great song (although I don't recommend watching the video).
So that is my power song list. Do you have a power song list? Or is there a song you have that when you hear that song it makes you go a little bit faster? If so I would love to know. I am always tinkering with my list and so suggestions is always welcome.