Tacos Dorados, Puerta Vallarta, Mexico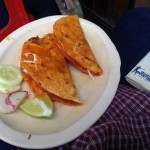 When I think of what I can buy with only $4 dollars in the USA I immediate think of fast food. When I think of what $4 dollars will get me in Mexico I also think of fast food. The difference is that in Mexico it doesn't have to come from a chain fast food place.
While in Puerto Vallarta, Mexico I discovered a new (to me) taco called the Taco Dorado. It is like a normal corn shell taco you get at any taco stand in Mexico but the difference is that they soak the cold tortilla in adobe sauce and then put the meat in it (in my case goat meat). The whole thing is cooked some more until the tortilla is a little bit crispy and then fried onions and some taco sauce (not spicy) are added in. I ended up having two of these tacos.
Click on the pictures to enlarge:
While the two tacos were extremely delicious, I was still hungry. Luckily for me the taco stand that I was at also had quesadillas. The quesadilla was made with carne asado (grilled beef), queso asado (mozzarella cheese), pinto beans, onions, and adobe sauce. The best part of the quesadilla to me was the tortilla. It was made fresh from a hand rolled ball of masa (corn dough). It was big too, my tacos and the quesadilla could not fit on the same plate. It was kind of like having a two course lunch because I had to eat my tacos before they would give me the quesadilla.
To wash all if it down I had a sprite. I know not so exciting but soda to me goes well with tacos. By the time I was finished I was very full, but I was not broke. My total bill (including what the lady said was a very generous tip) was 57 pesos. With an exchange rate of 16.50 that translates to $3.56 USD. Good luck getting the same in the USA.