Conchas Chinas, Puerto Vallarta, Mexico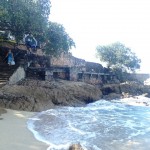 Translated into English Conchas Chinas is the Chinese Conch. Despite the fact that when we were there we saw many Chinese tourists the place is named after very small round sea shells that are named after the curvy Chinas designs they have (think wavy blue tiles from Puebla, Mexico).
The beach is not that big. It is also not close to the center of town which is nice because you will see less tourists there. For a long time our group were the only ones on the beach. For about 3 dollars we rented 3 chairs and a umbrella for the day. Myself, I didn't use the chair much because I was determined to get out and do some snorkeling. The water was pretty clear and I was able to see quite a number of fish.
Click to expand the photos: