Sherman Indian High School (SIHS): City of Riverside Landmark #16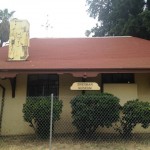 Location: 9010 Magnolia Avenue.
Date Established: 7/19/1901
Date Visited: 6/28/2015
"The ultimate point of rest and happiness for the Indians is to let our settlements and theirs meet and blend together, to intermix and become one people, incorporating themselves with us as citizens of the U.S. This is what the natural progress of things will of course bring on, and it will be better to promote than retard it. Surely it will be better for them to be identified with us and preserved in the occupation of their lands, than be exposed to the many casualties which may endanger them while a separate people. " – Thomas Jefferson 1803
In the late 1800's after decimating Native American population by means of forced resettlement onto territorial land, the United States started to implement the final phase of Indian assimilation. In 1892 the Bureau of Indian Affairs started what was to be called the Perris Indian School in Perris, California. The idea behind the school was that they would take Native American children away from their native lands and people and force them to learn American ideals.
The school operated for a few years but Perris, not having a lot of water, proved to be an unsuitable location for a school and so in 1901 the school was moved to Riverside and named the Sherman Institute. By the fall of 1902 eight grades were in operation and taught students in agricultural and industrial sciences.
At first life was hard for students at the school. Most of the students were from tribes not native to California. Once enrolled in the school they were not allowed to return home. Some students even died at the school and were buried in a special cemetery located in Home Gardens. Gradually enrollment policies changed and by the 1930's all California Native Americans were integrated into regular public schools.
The times gradually changed and in the 1960's the Native American people demanded that the school be formalized. In 1971 after a complete remodel of the school, the name was changed to the Sherman Indian High School and was officially accredited by the Western Association of Schools and Colleges.
Today Sherman Indian High School has transformed itself and stands as a place of higher learning, celebrating the values and cultures of the Native American people. There are an average of 300 to 500 students in any given year. Any student who is a tribal member of a federally-recognized tribe with at least one-fourth blood may apply to attend.
Not being Native Americans ourselves we opted for the Sherman Indian Museum. We had been wanting to go for some time but the hours of operation never seemed to work with my work schedule (Tuesday-Thursday 1PM to 4:30 PM). Lucky for us, Denise found out through Facebook that they were going to have a special fundraiser event on Saturday. We were able to go and visit the museum, eat some fry bread, and learn a little bit of basket weaving. The museum was free, but donations are gladly accepted.
Click on the photos to enlarge: