San Miguel Mission "The Crumbly One"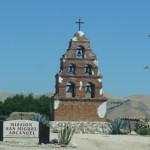 If I had to give San Miguel a name it would have to be that of "The Crumbly One." The sounds bad but it actually makes San Miguel rather unique. Unlike all of the other California 21 missions, San Miguel mission is the only mission not to have been restored. Due to this fact the mission you see today is pretty much the same as it would of looked back when it was founded in 1797 (ok, perhaps a bit later, they did have to build the mission first).
San Miguel to me was also interesting because it has been so far the closest mission to the 101 (also known as El Camino Real) highway. As soon as you got off the exit you were there. It was a very easy mission for on and off again highway access.
Due to the fact that this mission is not restored in any way, it was very interesting looking at the altar. The first thing that struck me was that the colors were very pastel. I wondered if this was due to the fact that they were washed out or if that was the way they would of looked originally. Also instead of seeing a saint in the center there was this big painted eye. The eye is to represent God the Father, which I am assuming was meant to be a warning to all the worshipers, but all it did for me was want to look at a US dollar bill.

[