Returning to Baja California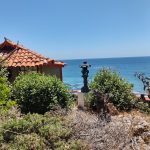 Date Visited: July 4, 2020
It had been about 8 months since we had visited Mexico. Travel to another country has been rough right now. We had a great road trip into Baja California Sur last November and three different trips to Mexico this year. Those three trips had be rescheduled. Even with the rescheduling it is hard to know for sure what can or can't be done because the rules are constantly changing right now.
My beloved Triki-Trakes cookie supply was low. I found some at a Mexican grocery store, which were better than the last ones I tried but they were still produced in an American factory. The ingredient list was the same but it just didn't taste the same. Also for some reason the cookie size was bigger and I like the smaller cookie size.
With everything shutting down again in California, we were not sure we actually wanted to be in California. Denise just got her latest test results from her blood donation, COVID19 free once again, so we were busting out. The news said that the border was closed but we wanted to see for ourselves so we drove south.
Needless to say we were surprised that there was no one on either the California or Baja side of the border. On the Mexican side we only saw maybe 4 border guards and they were not stopping anyone. To sets of speed bumps and we were on our way down south on Highway 1.
Due to the fact that we didn't think we were going to make it across the border we didn't have a hotel reservation. Once we were across the border I quickly got on my phone and made reservations with the Puerto Nuevo Hotel. Luckily I have a phone plan that automatically works in Mexico so that wasn't a big deal. We were lucky and I was able to secure a deal for $90 USD per night.
We took the toll road down to Puerto Nuevo. There were two tolls on the way down and they charged us a total of $38 MXN one way. The best thing about the toll roads in Baja is the view. You can go along the free road but there are a lot of stop signs and the view is not nearly as good.
As soon as we got to the Puerto Nuevo Hotel we noticed some of the new COVID19 measures. Everywhere you go now in Mexico you have to space out. To get into any building there is a temperature check and you must wear masks. Also there is usually a mat that you have to walk on that has clorox in it. We passed checked in and left our stuff in our room, which had also been extensively cleaned. You could smell the disinfectant. Anyone who ever served us anywhere in Mexico had a mask on, which was nice to see that they were doing their best.
Puerto Nuevo is known as Mexico's lobster capital. There are more than 30 restaurants within a four block span serving the same California Spiny Tail lobster. After dropping off our stuff we took a very short walk to Puerto Nuevo. The lobsters in Puerto Nuevo are served baja style, which means they are split in half and fried in lard. There are lots of different specials but basically a medium lobster with beans, rice, and flour tortillas is going to cost you $20. We settled for Angel del Mar which was offering three small lobster tails for $15 USD. I personally prefer the smaller tails because they are more tender. The larger the lobster, the more tough it tends to get.
In addition to visiting Puerto Nuevo, we also visited Popotla, Calafia, and La Mision. Popotla was one of the filming locations for the movie Titanic but is more known with the locals for the Martian Crab (which is a Spider Crab). The Martian crab costs more than a lobster in Baja. The crab tasted good, they cooked it with garlic, but it takes a lot of work to eat crab. What is worse is you don't get that much meat for the work you have to do to get crab meat. Calafia is a town I remember for being elegant in the 70s and has a cool Mission theme, but the hotel has not aged well and is kind of run down. La Mision is the last stop before you get to Ensenada. Back in the day when the free road was the only road it used to take forever to get to Ensenada, so La Mision was a nice stop on that long journey. Now the free road gets you to Ensenada easily but it is still fun to go to La Mision sometimes and admire the waves while watching the waves at one of the La Fondas (there are two of them, Gary's and Dymetri's).

Crossing back across the USA was pretty easy. At the time the only people that could go north were Americans and foreigners with essential purposes. The total time was 20 minutes in the Ready Lane, this is a special lane if you have a passport card. That was probably the fastest I have ever crossed the border.