Day Trip to San Clemente, California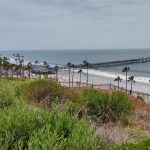 Date Visited: June 20, 2020
This weekend I was by myself and I felt it was important to me to get out of the house for an adventure but the thing is I don't really enjoy driving that much. Luckily for me there is the Metrolink. It is really a great deal, especially on the weekends. For just $10 for a weekend day pass you can go anywhere the Metrolink goes which in California includes the counties of San Bernardino, Riverside, Orange, and Los Angeles. Furthermore, in almost all those counties if you present your Metrolink ticket you can also use the local bus and/or metro.
Due to the COVID19 situation it has been several months since I have seen the ocean. I was born by the ocean and even though I can't be there all the time I never can be apart from the ocean too long or I feel something is missing. I don't even need to do anything when I am at the ocean I can just sit on the beach and listen to waves for hours on end if allowed.
The Metrolink has several beach stops but for this one I chose San Clemente, which is known as the Spanish Village by the Sea. This name was given to San Clemente in the 1920s by a man named Olie Hanson. Mr. Hanson was born in the 1870s in a log cabin in Wisconsin. He was a tailor by trade and studied law by night. He eventually made it out west to Seattle, Washington where he became a sucessful real estate developer and joined a little known political party known as the Bull Moose Party. He ran for the US Senate and his friend Theodore Roosevelt ran for President of the United States, both lost. He was though elected as mayor of Seattle in 1918.
Life was busy for Olie Hanson and he grew tired of the politics and rain in Washington so in 1925 he bought 2,000 acres in what was then not very desirable land. He though had a vision and after naming the city after it's neighboring island, he said San Clemente was "his blank canvas", his "Spanish Villa by the Sea." Driven by the inspiration he acquired from the Helen Hunt Jackson novel Ramona, he made the Spanish fantasy into a reality.
His first project was his winter home which he named Casa Romantica, which he built in 1927. It is a stunning Spanish Hacienda style house built on the cliffs that overlook the San Clemente Pier. The grounds cover 2.5 acres and are surrounded by beautiful gardens that are filled with delicate flowers grown specifically to attract butterflies, which dance between the petals. Entrance to the house is only $5 and they usually have a art exhibit in addition to the self guided walking tour. When I was there I got to see an exhibit on Nellie Gail Moulton. I had never heard of her before but her scenery work is stunning.
In addition to Casa Romantica there are several other buildings in San Clemente that bear influence from the Hansons. Probably one of the most beautiful is the Ole Hanson Swim Club, which features a pool that overlooks the ocean. It is public pool run by the city, so everyone can enjoy it. Unfortunately the Great Depression was not good to Olie Johnson. He lost a lot of money and the newly instituted income taxes forced him to sell all of his properties in San Clemente. It didn't go too bad for him because he had enough money to also start a development in Twentyninepalms.
Today, you can get to San Clemente by train or by car. If you go by train a day pass is $10 per person on the weekend and there are two trains that will get you there and two trains that will get you back. If yo go by car parking is a bit tight and will cost you $1.50 per hour anywhere in the city limits. In addition to visiting Casa Romantica and the Swim Club, the main attraction to San Clemente is the beach. The waves are good and you will usually see surfers out trying to catch them. There are several restaurants with ocean views. When I was there I went to Fisherman's which has a wide array of entries all the way from $5 clam chowder to $30 swordfish steak. I particularly enjoyed the soft shell crab sandwich, I love crab but I always hate picking at them.
Most of my day was just spent sitting at the grass at Parque Del Mar and listening to the waves. I wish I could have stayed there longer, but the real estate prices are horrible in San Clemente so I made sure I caught my train back home, but I know I can always return for a visit.
Video: