Day Trip on Old Interstate 15 (I-215) in Riverside County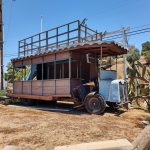 Date Visited: 6/13/2020
I remember when I was little Riverside County was not that populated. It was kind of a military area. I knew it for the Mission Inn, March Air Force Base, and oranges, not much else. When my family moved to Murrieta in 1994 there was literally only one stop sign in the entire city. Anything past Los Alamos road was dirt roads. There was a Alpha Beta and it had a hitching post so people could tie up their horses while grocery shopping.
Things today have definitely changed. There are no more hitching posts, roads have been paved, the Air Force Base was closed and reopened, the orange trees are gone, and now Riverside has what I would describe as many main stream stores. On the surface I would describe Riverside County as very suburbia. No really major cities, but things are very much uniform. Or are they? The thing is many of the things that make Riverside County unique never really went away, they just got a bit hidden.
A good example of this is Highway 215. A divergence of interstate 15, Highway 215 used to be a small country road, but it is now a 8 lane highway that is almost always has slow traffic because they keep building new housing developments. The old roadside attractions are still there. I was curious to see if we could find a few of those sights I was pleasantly surprised to find them still open.
Motte Historical Museum
Address: 28380 Highway 74, Menifee, CA 92585
Cost: Free
The Motte Brothers are one of the oldest families of Perris Valley. Alphonse Motte immigrated to America in the late 1880s and started to grow potatoes, onions, and grains. By the 40s Motte and Sons was one of the largest agricultural company in Riverside County. In 1951 John Motte bought a 1926 Ford Touring for $15 dollars and restored it. That was the start of what is a big rotating collection that still goes on today. In the museum you will find cars separated by decades from the 20s to the 50s.
The Fallbrook Cafe
Address: 739 E Mission Rd, Fallbrook, CA 92028
The Fallbrook Cafe is a very unassuming cafe. Not really special in and of itself but it nice little stop while travelling up in Fallbrook, which is a an area famous for avocados and plant nurseries. To get to the Fallbrook Cafe you need to travel up highway 395, which used to be the old way you would go from Riverside to Oceanside. If you want a taste of Fallbrook you can try the Fallbrook sandwich which is of course an avocado sandwich.
Live Oak County Park
Address: 2746 Reche Rd, Fallbrook, CA 92028
Cost: $3 per car.
It isn't uncommon when you are driving to one location and if you have a bit of extra time you will find something you are not particularly looking for. This is the case with Live Oak Park. The park was officially named in 1920 and is mostly a CCC (Civilian Conservation Corps) project but it has been used for a long time. In fact if you look around you will find the ancient mortar stone that were used to grind acorns.
Myrtle Creek Botanical Gardens & Nursery
Address: 2940 Reche Rd, Fallbrook, California 92028
Cost: Free
There are many plant nurseries in Fallbrook. Mostly when you go to a nursery you are there to find a plant. The difference with Myrtle Creek is you might find an adventure. The area is different in that there are pathways to discover and their gift shop is a farmhouse that dates back from 1899. It is a nice place to buy a lemonade and just sit for awhile.
March Field Air Museum
Address: 22550 Van Buren Boulevard, Riverside, CA 92518
Cost: $12 adults (over 12), $6 children (4-11)
If you have ever driven highway 215 it is very likely you have seen the March Field Air Museum. It is right next to March Field Air Force Base. March Field has a long history in both Riverside County and the United States. The base has a long tradition of sending US troops to all over the world. The museum has a wide variety of many different planes that you can look at and in some cases crawl through. The star of the show is the SR-71 (which was originally called the RS-71 but Nixon mixed the letters and it became the SR-71).
Video 1:


Video 2: