Knott's Berry Farm: A Taste of Calico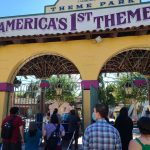 Date Visited: July 18, 2020
Back in December 2019 I decided to buy a Knott's Berry Farm pass. I don't buy one every year but every other year it is kind of fun. For about the cost of one day at Disneyland I can get a one year Knott's pass, a meal plan, and parking. It is a great deal, that is until there is a crazy worldwide pandemic.
I can't complain too much, even before the park totally shut down I was able to go 8 times. That in and of itself made the pass worth the money I paid for it. Knott's however did their pass holders right and extended all their passholders until 2021. Very nice and bold, but it still has been a long time since entering Knott's. So when on Wednesday I heard about the Taste of Calico event and it allowed people to go to Calico I immediately bought tickets.
It was $25 a person, I didn't even know exactly what the event was going to do. All I knew is we were going to get to go into Knott's but no rides. Though as the name "Taste of Calico" I did kind of had a clue. Basically you were paying for 5 tastings and there was about 20 different foods to try. Mostly it was Boysenberry inspired food, but what do you expect with a place with Berry in it's title, it is how they started.
Later on I found out the capacity was limited. I kind of figured it was going to be that way, it is kind of thing in California right now. According to Knott's they were only selling up to 15% of total capacity of Calico, which is one of the several lands in Knott's. I was curious if they would even sell all their tickets, but considering they completely sold out it was obvious there was a lot of interest. When we got there we found, as found everywhere, several safety measures. Some of the security measures was three questions that basically amounted to asking if you if you had any possible contact with COVID19 in the last 14 days. Then you had to walk past thermal cameras that took your temperature. Masks were of course required and social distancing dots were all over the place.
It was fun to be back in Knotts again. They had the old peekins refurbished, the New Beary Tales signs were up (although the ride wasn't operating), the cemetery was working, and there was some live entertainment. The food was good, but you had to wait in a lot of lines. As I was waiting in the lines I wondered why they were so long. My thought is unlike normal Knott's events, they can't really assign more workers to help get the line moving, this is because there is only a certain amount of people that can work in a certain space. As a result some of the lines got really long. Two of the lines we went through were an hour long, which to me is not so bad when there is a cool roller coaster at the end. It is not so fun when you are waiting an hour for an ice cream sandwich.
Overall it was a fun activity but I don't think I would do it again. That is unless they get the lines down. That said it is crazy world, so who knows what I would do for entertainment. Maybe the way things are going I will find that paying $25 to wait an hour in line for a ice cream sandwich will be a cherished memory in two months, you just never know the way things are going right now. I am grateful that Knott's is trying to do something. They are a business and they need to make money to stay afloat. I also wonder if other amusement parks will follow suit and try to start their own events. I guess we will just have to see how it all plays out.