Mulege, Baja California Sur, Mexico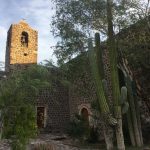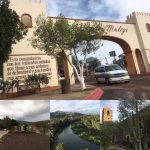 Mulege has always been an oasis from the windy Sea of Cortez. Traveling down Baja's highway 1 it would be very to dismiss the town as nothing more than a colorful castle like frontage. Indeed, Mulege is very small, a village, but like most places in Mexico there is much more to discover for those who have an open eye.
The Spanish Jesuit Father Juan Maria Salvatierra arrived in Mulege in 1702 and established Mision Santa Rosalia in 1705. The mission didn't do very well, the locals kept leaving, but a mission church was built in 1754. This church would be very significant because in 1846, during the Mexican American War, a group of Americans from California (the USA part) came down to Baja and started to take over the peninsula. Tijuana and Ensenada fell to US control. When US forces (more like a California Militia) got to Mulege, the locals defended the city by attacking from the mission church. The forces in Mulege ended up chasing the California Militia all the way back to San Diego. It was one of the few Mexican victories in the Mexican American War and is the reason Baja did not become part of the United States. Due to this act of bravery Mexico gave the town the official name of "Heroica Mulege" (the hero town of Mulege).
Today Mulege is just a sleepy fishing village. There isn't much to see in the town. There is two hotels in town. Casitas Mulege and Hotel Mulege. We chose Hotel Mulege because I really wanted a hot shower and after running the shower for 10 minutes there was no hot water at Casitas Mulege (hope they get that fixed soon). At the hotel you had the advantage of being able to park right in front of the rooms. Most cars there were SUVs and trucks, our little car was kind of dwarfed. The restaurant, Doney Melly's, is good but a little bit expensive (for Mexican standards), but there is nowhere else to go.
The highlight of the town is the mission church. It is very well preserved by the locals who cut back the grass daily. If you are lucky someone will come and open the church for you and you will see what it was like to be a Spanish missionary. It was a very austere lifestyle. There is no cost to visit the mission but there is a little donation basket inside the chapel.

Video: