How to Watch the Rose Parade in Person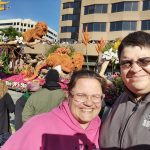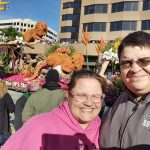 If you are like us you have seen the Tournament of Roses Parade on television for many years. Perhaps you have grumbled a bit as the television announcers completely talk over your favorite band. There are several ways in which to see the Rose Parade in person. This post will talk about three ways.
First thing you need to know is a few basics about the Rose Parade:
The parade happens on January 1. Most of the time. When January 1 is a Sunday, the parade happens on January 2 instead.
It starts at Green Street and Orange Grove Boulevard at 8:00 a.m.
The 5.5-mile route through Pasadena turns from Orange Grove onto Colorado Boulevard and then north on Sierra Madre. You can see the route on this map.
Don't worry about things going past you too fast, the procession travels a leisurely 2.5 miles per hour and it stops a lot.
If you need to know anything else that isn't covered below, check the Rose Parade website.
Stay Out All Night
The one way to guarantee that you will definitely be front row is to go and stay all night. Starting the day before the parade at 5 p.m., you can reserve a spot along Colorado Boulevard. This is a first come, first serve basis. If you are lucky you will find a parking spot on the street, but you will probably have to pay $50 dollars for an all night parking spot. You will camp on the curb until 11 p.m. at which time you will be allowed to move up to the blue line on the street. The weather can get a little bit chilly so make sure you dress warmly. At least one person from your party will need to be at the camping spot at all times or someone will steal your spot. No open fires are allowed but you can bring and use little butane heaters. No tents are allowed either, so just bring a tarp, some sleeping bags, chairs and blankets. There are lots of different food options and you can bring your food or buy it and many different places near Colorado Boulevard.
Buy a Seat
The easiest way to see the parade in person is to buy a grandstand seat. These range from $55 to $150 per person and are on sale online at https://sharpseating.com/rose-parade-route/. When you buy a ticket from Sharp Seating you will be subject to security screening and will not be able to bring anything bulky, sharp, outside food that is bigger than a snack, or items that make noise. Another option to look into is independent people reserve seats along the parade route and will sell them to you for about $20-$40 dollars. You will usually recognize them because they are usually white plastic rental chairs. Parking near the parade route will cost you about $20 for the time of the parade.
Early Seats
This is our favorite way to get a seat for the Rose Parade. What we do is we come in early on the Metro. Find a metro station that has free parking (Azuza or Sierra Madre Villa are our favorites), buy a day pass for $9 ($2 for the card, $7 for the pass), this will allow you to ride the metro all day. The three stations that follow the parade route are Allen, Lake, and Memorial Park. Find a group that has been staying all night on the curb. You will notice them because they will have sleeping bags and blankets. If you get there at about 6 a.m. to 6:30 a.m. They will be waking up and will start to get ready for the parade. As they do so they will normally shrink the amount of space they are using. As the shrink up you can sit behind them. You will not be front row but the floats are big and you will still have a great seat. Afterwards use your day pass to explore the rest of LA or go to Sierra Madre Station and view the floats up close in person ($20 per person).
Video:



Marine Corp Band:


University of Puerto Rico:


Rancho Verde Crimson Regiment: