Mexican State Capitols: Cuidad Victoria, Tamaulipas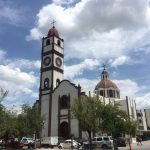 Visited: September 1, 2019
Tamaulipas' official name is "Estado Libre y Soberano de Tamaulipas" (the Free and Sovereign State of Tamaulipas). It is a testament to those who would try to be overbearing on it's citizens.
To understand this one only has to look at history. In 1445 the Aztec armies came up to conquer the area, it wouldn't be for another 21 years in 1466, that the Aztecs received their first tribute. The Spanish first came to the area in 1554. The first church was established in 1617. It would be in 1746, a 192 years after the Spanish first arrived, that Tamaulipas was officially incorporated as a new province of La Nueva Espana (New Spain). When Mexico declared it's independence from Spain, Tamaulipas was one of the 19 founder states of Mexico.
The climate of Tamaulipas is as tough as it's people. Dry and arid, it is stratified with it's two main economic centers on the southern border in Tampico and on the northern border in Matamoros.
We started off our journey early Sunday morning. On the way into Cuidad Victoria we visited the Pueblo Magico of Tula. We were trying to find out why it was a Pueblo Magico and found out that the church was the reason. The thing I noticed right away was how thick and fort like walls of the church were. I could only imagine how many times those walls were a place of refugee. The town was very low key, very Hispanic, kind of reminded me of the movie the Three Amigos. I almost expected at any moment someone was going to come out with a guitar singing "Tumbling Tumbleweeds" (that did not happen).
We came into the City of Cuidad Victoria with just enough time to get to church. Unfortunately, it took us going to three different locations to find a church at the right time. As it was we missed sacrament but we did get to sing some songs in Spanish and listen to a few testimonies.
As far as Mexican capitols go, Tamaulipas was one of the most humble state capitols I have ever seen. It was very hot and the plaza was small. The Ciudad Victoria Cathedral is kind of small for being a cathedral. It had no air conditioning and was kind of stuffy, but it did have very impressive woodwork.
Moving up to the border we saw a lot more life in Matamoros. The outskirts of the city are filled with maquiladoras, which are mainly US owned factories that use Mexican products. There is this strange thing going on at the US/Mexican border in Texas. If you ask a Texan about Mexico they will probably tell you that Texas is better, but if you look at the labels on the products sold in Texas you will find they are mostly made in Tamaulipas. The reality is that the economies of Texas and Tamaulipas are very much intertwined.
This is seen most at the Rio Grande where we joined the second largest US/Mexican border crossing. At the border we could see a lot of people moving back and forth. In fact, at the time we were on the bridge, there were more cars coming into Mexico, than leaving. It took us a few turns to get in the right line but it moved rather quickly. It cost us $2.25 to cross the bridge into the US city of Matamoros.
Video: