Mexican State Capitols: San Luis Potosi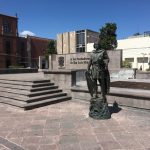 Visited: August 31, 2019
In Mexico there are these towns called Pueblo Magicos and they have the same effect on me as do official plaques in the USA. If I am close to a Pueblo Magico I feel compelled to stop and check them out. I mention this because as we were traveling to San Luis Potosi we started seeing these signs for Pinos in Zacatecas and it was just calling to go, luckily my uncle who as with me at the time agreed and so we did a slight deviation.
A quick internet search of Pinos said that the town was known for pottery. We did not see any pottery while we were there. The town was quaint, but I wasn't sure what the big deal was. What we did see on the way were a bunch of signs advertising tuna cheese. Tuna is a fish, but in Mexico it is also a fruit from a cactus. It didn't make a lot of sense to me to have cheese made from a cactus fruit and so on the way out of the town we stopped on the side of the road to see how this cheese was made. What we found out that it was not really cheese in that there was no milk involved. What they did do was mash the fruit up, strain it, and then form it into these disks that kind of looked like cookies, but tasted like the inside of a fig newton. I am not sure I would consider it my favorite treat of all time, but it wasn't bad. The cool thing was it was discovering something new and that is what visiting a Pueblo Magico is all about.
In 1592 the famous conquistador Juan de Onate established San Luis Potosi after it was discovered to have some gold and silver mines. Onate was "voted" (if you know what is good for you) the first mayor of the town. They named the city San Luis after Louis IX of France (a rich man) and Potosi after a very rich mine discovered in Bolivia. Unfortunately San Luis Potosi's mines never were as rich as Bolivia's but it did develop due to it's location as a trade hub.
San Luis Potosi liked it's association with kings and because of such  even though Mexico declared independence from Spain, San Luis Potosi did not surrender to Mexico until 1821, becoming one of the last states to do so. In 1863 San Luis Potosi was briefly the capital of Mexico when the French invaded Mexico, until the French invaded San Luis Potosi and the capital had to be moved to Chihuahua (but that is a long story). It wouldn't be until 1866 that the state of San Luis Potosi would be 100% Mexican.
Today San Luis Potosi is known mainly for two different things. Mining and agriculture. It also has a lot of bio diversity, traveling through the area, the terrain changes a lot. There are five national parks in the area. My uncle was most interested in a bird called the caracara. When we saw one on the toll road we stopped and took pictures, this was much to the amusement of the local truckers who were laughing at us as they passed us.
Video: