Ice Cream For Breakfast Day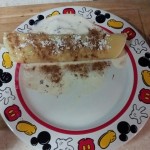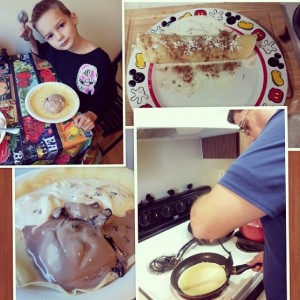 I don't know exactly when, why, or where Ice Cream Breakfast day was started, but if it involves the consumption of ice cream I can easily be pressed for service in celebration. For our Ice Cream Breakfast celebration we settled on two choices of ice cream: Extreme Moosetracks and Pecan Pie.
I like watching YouTube videos and this morning I for some reason got stuck on watching videos about people making crepes. I am not much into French cuisine but I do have a very distinct memory of my first crepe. My first crepe was ironically as far away from France as you can get, it was in Japan. Somewhere in some random department store in Odawara I had my very first crepe. It was light and fluffy and filled with nutella, bananas, and whip cream. It was awesome. I have had many crepes since, but none like that first one. I don't know if it is due to a distorted memory but I have yet to taste anything like that first one.
Anyhow, today AJ and I decided to make it a go and make our own crepes. Here was our recipe:
Two eggs
1 dash sugar
1 dash salt
1 cup milk
1 cup flour
This recipe was super simple just mix together all the ingredients in a bowl and then fry in a non-stick pan. I personally discovered that putting a dollop in the middle of the pan and then circling the mixture in the pan worked best for me.
Being Ice Cream for Breakfast Day we of course put ice cream in the middle of the crepes which made them that much better. YUMMY!