El Palacio De Bellas Artes (Fine Arts Palace), Mexico City, Mexico
(click on any image to expand)
It was 1904 and Mexico was about to celebrate their 100th anniversary. Porfirio Diaz, the dictator, needed something big to celebrate. He needed to show he was in charge and that Mexico was great, so he built El Palacio De Bellas Artes. Well, he sort of built it, he meant to build it, but something got in the way. Well, if it wasn't for that darn revolution and his whole goverment getting toppled I am sure he would of put down more than one stone!!
Well, luckily for the rest of the country (and argueably humanity) the revolution did stop, but the idea of the Fine Arts Palace did not stop. The original archetect Adamo Boari returned (by a bloodthirsty mob) to Italy so a new Mexican archetect named Federico Mariscal finished it. Construction started again in 1932 and completely finished in 1934. Made of white marble from Carrera, Italy, it is a masterpiece worthy of the beauties it contains.
The main function of the Fine Arts Palace is that of an active theater. The group that performs there is the Ballet Folklórico de México de Amalia Hernández .This spectacular performance helps keep alive the history of Mexico through music and dance. If you haven't seen the show it is a must and at prices ranging between $20 to $80 dollars, it isn't that expensive.
Another lesser known feature of the Fine Arts Palace is that of it's artwork. It has a wide range of artwork. From contemporary to classic, you will probably find something you like. Entrance to the museum section is $3 per person. When we went there we went with some of my dad's student's and we thought he was going to lecture (which is usually interesting), but instead the head professor chose a local tour guide. I got bored really quickly from her lecture. Basically, it was like she was talking to someone from middle school, but all my dad's students are post-graduate students. Since we were not taking that course for credit we ditched the local tour guide and wandered about on our own.
My favorite mural was that of Diego Rivera's "Man, Controller of the Universe." This painting was originally commissioned by Rockefeller and was supposed to be installed in New York City, but when city officials got word that the painting had communist leaders in it they quickly stopped it. Diego Rivera blamed the fiasco on Rockefeller and so if you look very carefully in the painting you will find Rockefeller painted in with the corrupt Capitalists.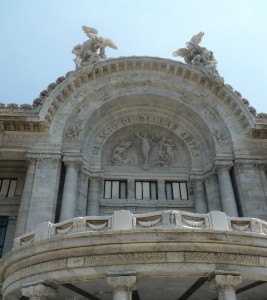 Anyhow, if you have time I suggest you take a look at this beautiful building. Even if you don't go to a show or to the museum going into the lobby or bookstore is free and that alone will make your day more interesting.
After the lecture we went with my dad to to the House of Tiles to have lunch at Sanborns' (a Denny's like restaurant). This particular location is famous because it is where Zapata's soldiers stopped for lunch on their way to the Zocalo. It too is decorated in murals and is a great place to get some Enchilladas Suizas.