9/24/14 Barton Creek Cave, A Journey into Xibalba.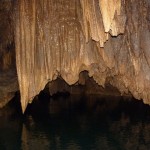 In the K'iche Mayan dialect Xibalba is roughly translated as "place of fear." The extensive cave system that crisscross Central America were believed to be the entrances to this dark kingdom. In was in this kingdom under the earth the twelve Lords of Death once reigned and controlled all forms of human suffering.
The legend continues to say that Xibalba was known as place of tests in which every visitor was ultimately killed. Usually this came in a variety of very humiliating tactics such as drowning in a river filled with pus, being tricked into sitting on burning bench, or playing at the ball court with a ball made out of razor blades.
Hun-Came (One Death) and Vucub-Came (Seven Death) were the chiefest and meanest of the group of death lords. All went well for them until one day they invited the Mayan Hero Twins into their realm. Hunahpu and Xbalanque, like every traveler who had ever come before were invited by the death lords to come, be humiliated, and eventually die. The twins were said to be amazingly clever and bested all the Lords of Death at their own games. In doing so they put Xibalba into state of disarray and the stronghold (the fear of death) the realm of Xibalba once had no longer plagued the Mayans. After their victory the Heros Twins were said to have climbed into the sky where they became the Sun and the Moon.
Like the Hero Twins our travel to the Barton Creek Caves was not without it's trials. The caves are only 8 miles from Georgetown road but the road is very bumpy. Luckily, we had a 4×4 so we were able to get through ok. Close to the caves is Mennonite country and they do an excellent job in maintaining their roads. Oh, and then there was that river crossing that was reminiscent of Indiana Jones in that you hope your 4×4 can take it or you are going to sail back to Mennonite country courtesy of a rushing river (does creek really apply if the water is 3 ft. deep?). After driving in we ended up paying $65 per person for the guide to take us into the cave. For $75 per person I could have just had a driver, guide, and lunch. In retrospect hiring a driver would have been better, but I kind of figure I am in a new league of the off-roading club now.
The cave is cool, you get go about 600 meters in and see all sorts of things. There are two different types of bats in the cave, fruit and insect. We saw many pots, the place where a sword was found, and a skull of what they think was a Mayan princess. They believe she was a princess because she was neatly arrayed, but there were 9 others skeletal remains that look like they were sacrificial offerings. They were not the only human remains found, there have been so far 28 different human remains found inside the cave system. When the lights go out in the cave it is pitch dark. It can be very disorienting. Denise kept thinking she was moving when in fact we were standing still.
After the tour was over we were left alone and we were able to go swimming in front of the cave.
It was dark and sprinkled a bit on the way out but going downhill was a lot easier.