So we are on our way to Belize tomorrow and I (John) decided I needed some Japanese food. If that makes any sense to you will be just fine with takoyaki.
The name takoyaki to me sounds like a Mexican-Japanese fung sheui thing, but it is very Japanese. It is actually a mishmash of two Japanese words. Tako means octopus and yaki means fried. Takoyaki is traditionally a fair type food in Japan served out of what looks to be aeblesiver pans (what the Dutch have to do with this I have no idea). Think of it like a savory donut made out of fish and pancake batter, yep I told you this would all make sense.
I did not have a aeblesiver pan (even though you can get them pretty cheap on ebay), so I improvised a bit with a mini-cupcake pan. I then went to my local Latin American market (Cardenas) and bought pupusa (Spanish for octopus) mix. That along with some green onions, chopped seaweed, and seasame seeds, I was good to go.
If you want to try it yourself here is the recipe for the batter:
1 1/4 cups flour
A dash of fish sauce
A dash of soy sauce
A dash of salt
Two Eggs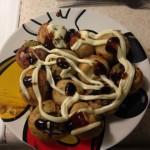 First put the batter in your pan, all the way to the top. Then in each cup put your seafood mix in with the green onions, seaweed, and sesame seeds. After waiting for it for about 2 minutes rotate with a fork, keep doing this until they turn into golden round balls.I topped my creation with mayonnaise (squeeze it out of a sandwich bag to make designs with it) and some oyster sauce. Not as good as walking the streets of Tokyo, but still pretty good. It wasn't like I could read the signs anyhow. Which I should be able to do in Belize, because they speak English there.