Ancient Zapotec Capital: Monte Alban, Oaxaca, Mexico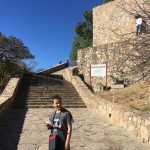 Monte Alban, the ancient capital of the Zapotec Nation is located in the South of Mexico, high into the hills surrounding the city of Oaxaca, Mexico. Getting there is very easy from Oaxaca. There are many tours and services that will take you. We decided to take a local shuttle bus that cost $60 pesos (about $3.25 USD) from Oaxaca. The bus station was a little hard to find because it was really small, but that is way it goes sometimes.
The bus ride was about 20 minutes and went straight up a very steep road. From the parking lot stop you had to walk about another 200 meters up a hill to reach the ticket counter and on site museum. Cost of entry was $70, children under 12 are free.
The history of Monte Alban is very interesting. The firsts signs of civilization started about 500 BC. The site grew as the Zapotec capital and dominated the region for hundreds of years. The first phase went from 500 BC to about 50 BC, then stopped. Then in 100 AD the area started to grow again. At that time there was evidence of contacts and wars with the Teotihuacán nation in Mexico City. A truce was developed and the two nations were known to trade with each other. Some of the artwork found at the site suggests there might have also been contact with the Incas as far out as Peru. In about 500 AD the Zapotecs were conquered by the Mixtec nation. The Mixtecs used Monte Alban as a cemetery and filled the place with tombs. There have been over 200 tombs discovered at Monte Alban. The most famous being tomb 7, where a prince's tomb was discovered with golden armor and a crystal cup. By 1000 AD the site was abandoned and virtually forgotten until the 1930s when modern excavations were made.
Visiting the site is very impressive due to it's size. There are many tombs to walk through and discover and many stella are very visible. When going make sure to wear sunscreen, as it is very hot and there is not much shade. The whole site can be done very well in about 4 hours. We got there early and had lunch at the 20 de Noviembre Market which is famous in Oaxaca for these little eateries.