Hierve El Agua, Oaxaca, Mexico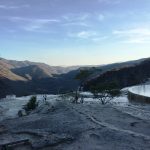 If you look at Hierve El Agua on the Internet you might mistake it for a jungle oasis. There are lots of green shots with people looking over a gorgeous natural infinity pool. Hierve El Agua is a beautiful location but people need to know that the state of Oaxaca is very arid and jungle it is not.
Water is very scarce in Oaxaca, but that is what makes Hierve El Agua all the more a suprise to see. Nestled high in the mountains outside the city of Oaxaca is this little natural spring. Over what was probably thousands of years this tiny little spring has been bubbling up water and over many years it has created an amazing natural structure. The ground in Oaxaca has a lot of calcium in it, so much so that if you run water over it long enough it will gradually calcify anything it touches. Despite the name that means "Boiling Water", the water is not hot, it is cool water.
Getting to Hierve El Agua is pretty easy. We got there as part of a tour that cost us $200 pesos and went to Mitla, Tule, and Hierve El Agua. Hierve El Agua was at the end of our tour and so we only had about an hour to be there. If it was up to us, we would have been there a little bit longer to enjoy more the two natural pools and do some hiking of the 10 KM (6 miles) worth of trails that are on location. Another way to get there would have been to pay $80 pesos to take a public bus (basically a bench in the back of a pick up truck) and pay a $40 entrance free.