Tule and Mitla, Oaxaca, Mexico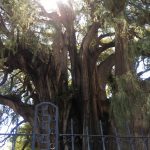 Tule, Oaxaca
The Tule tree, a Montezuma cypress, is the oldest tree in all of Mexico. According to the local Zapotec legend about 1,400 years ago, Pecocha, a priest of Ehecatl, the Aztec wind god planted the Tule tree nicked-named Sabino (the wise one). Scientists say the tree is somewhere between 1,500 and 2,000 years old. Today many locals call it the "Tree of Life" because if you stare at it long enough you will see animals and celebrities in the trunk and branches. If you can't quite get the vision you can hire a local kid (as long as you come after school is out) and for a dollar he will point a laser beam at the tree and point them out to you.
Mitla, Oaxaca
After we saw the Tule tree we saw a demonstration about mezcal, an alcoholic beverage made from the Agave plant. Since we don't drink we were not that interested but I got to try miel de Agave, which is the sugar root before it is fermented. That was very sweet. I heard that they sell it as a type of honey and you can use it kind of like liquid sugar.
We also saw a rug demonstration. They not only showed us how the yarn was pulled but also how local herbs and spices made different colors. We were given samples of different roots and were shown how if we mixed them we could make any natural color. The amount of work to make the rugs is immense, unfortunately the price also matched so we did not take one home.
Mitla started as kind of an ancient outpost around 100 CE. There were some wars in about 650 CE and it declined until in 1000 CE the Mixtecs took control of the city. The name Mitla means "place of rest" but could also be translated as "palace of the dead" . A kind of noble burial ground, it was thought that the people buried at the site would become "cloud people" and live forever. When the Spanish took over the area in 1553 they ordered everything destroyed so that the Church of San Pablo (Paul) could be built but when they got to the palace they noticed the designs on the wall looked like crosses. They decided that was a sign to stop and so the building is one of the best preserved examples of an ancient palace. The designs on the wall are very intricate in nature.