U.S.A. State Capitols: Santa Fe, New Mexico
Date Visited: January 2, 2019

Coming up from Texas we were running from a very cold weather front. Our goal was to stay the night in Albuquerque, but that did not happen. We were able to stave off the cold in Truth or Consequences but it did catch up to when we got to Belen. It was a bit frustrating being just 36 miles from our goal but the Super 8 we ended up being a good alternate base for the next two days. That night we found a little Sinaloan restaurant that was really small, nothing spectacular, but it was really cheap.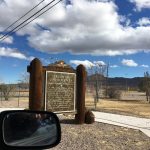 The next day we got lucky and the snow ended and with a late start we got past some of the traffic by leaving a little bit later in the morning. We headed past Albuquerque and headed up to Santa Fe. The Federal government shutdown was in full effect but some local volunteers were keeping Boca Negra Canyon in the Petroglyph National Park open. It is unknown who or why the petroglyphs were created. Some were created as early as 1500 BC. It was sad that we were not able to visit more national parks on our trip but I am very grateful to the volunteers that kept Boca Negra open during the shutdown.
Founded in 1610 Santa Fe, Mexico is one of America's oldest cities. Don Juan de Onate led the first European expedition to the area in 1598 but it took awhile before a city was actually established. The Spanish were brutal in the area and in 1680 the combined Pueblo nations ousted the Spanish and were conquered again in 1692. In 1810 Mexico took over the area and in 1836 the Republic of Texas tried to claim the area as part of Texas but were repelled by the Mexican Army. It was in 1846 in the Mexican-American War that New Mexico fell to United States forces.
As a United States territory New Mexico remained a territory for a long time, but in 1912 when New Mexico was admitted as the 47th state New Mexico (and Santa Fe) started to foster growth. In World War II many Germans and Japanese were relocated to the area. Today the city continues to grow and has it's own unique culture.
The Santa Fe New Mexico capital building reflects the cultural uprising of the area. Almost every wall of the capital building is filled with modern art. The building is round reflecting the Pueblo culture.
Santa Fe was also home of Georgia O'Keeffe and the museum displays many of her most beautiful paintings. Looking at an O'Keefe painting you start to get the vision of a different vision of life by looking at different objects at different angles.
We ended our time in Santa Fe going to Kakawa Cafe, which is rated worldwide as the 9th best hot chocolate in the world. What I liked about the hot chocolates that I tried (they let you sample) is that they were not sweet and had different degrees of dark chocolate tastes. I am hoping to visit some other hot chocolate places that are known worldwide so it should be interesting to compare.