Welcome to El Paso, TX and Cuidad Juarez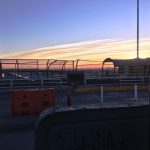 Due to the bigger and better highway it is faster if you are traveling East to travel on the US side of the highway than the Mexican side. Just to cram into our schedule as many places as we possibly could fit we decided to go into the state of Texas and visit El Paso for a day.
El Paso is a beautiful Southwestern (Northeastern if you are from) Texas town. While we were there I was able to see St. Patrick's Cathedral that was built in 1914. During this time Mexico was in the middle of a heated revolution and the Catholic church was heavily suppressed in Mexico. St. Patrick's Cathedral was built as a refugee location for Catholics fleeing the Mexican Revolution. We stayed in an Extended Stay by the airport which was nice because we had a full kitchen, which we used to buy groceries and save on meal costs.
We got in to our hotel room by nightfall and stayed up long enough to see the ball drop in New York. By this time in our trip Denise was a little tired of all the driving we had done so she decided she needed to rest the next morning. I on the other hand was not as tired so I decided to cross the bridge and visit Cuidad Juarez in the Mexican state of Chihuahua. Here is a video of me crossing the border:
I am only sort of joking with this video. From the moment I got in my uber to time I actually set foot in Mexico I must have been warned from 7-8 locals that I was doing something crazy. The fear is real. I had an uber driver tell me that his wife was Cuidad Juarez and she hadn't seen her family in 20 years because she is so afraid of what happens there. When I started making a video at the gate where you pay 50 cents to cross a guy walked across the street just to warn me of the "mistake" I was making.
I on the other hand am known by my friends and family as a bit eccentric and it should come as no surprise that all this made me even more eager to pay my 50 cents and cross the border.
I have to say when I finally did cross over I was very disappointed. For all the people hanging out on the US side of the bridge there was no one waiting on the Mexican side. Nada (nothing), as the Mexicans would say, it took me walking two blocks before I actually saw another person on the street. It was very anticlimactic considering all the warnings I had received.
The truth of the matter is Americans have been coming to Juarez since forever and it became a very popular place in the 20s and 30s due to the prohibition. In my research I was able to find out that there is a claim that the Margarita was first made in Juarez in 1942 in the now Kentucky Bar that was established in 1920. I say claimed because Rosarito, Mexico also claims they invented the beverage in 1938. I don't drink but I do find the history interesting. There was even one very famous club called the Lobby Cafe that was said to have been run by Al Capone's top Captains.
The blocks closest to the border in Juarez are mostly either bars, pharmacies, and/or dentists shops. Typical for most Mexican border towns. In order to get to something interesting I had to walk about .5 miles to the downtown area. In the downtown area there were several things of note. The most most impressive building was probably the Catedral (Cathedral) de Nuestra Señora de Guadalupe de Ciudad Juárez. This first was first established in 1659 and they have kept the original mission church right next to the modern cathedral. The stained glass took up an entire wall of the modern cathedral and presented an amazing array of lights.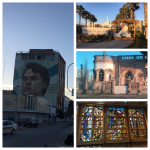 Also a highlight to Cuidad Juarez is the legacy of Juan Gabriel, a Mexican pop singer who died in 2016. Popular in all of Mexico, Juan Gabriel lived the latter part of his life in California in the United States, but he never forgot where he came from and Juarez never forgot Juan Gabriel. He might have passed on but many in Juarez still him as the unofficial king of the city. While I was in Juarez I went to eat in a cafeteria and the entire time I was there the people were singing Juan Gabriel songs. The whole atmosphere was very chill. I am sure there are problems in Juarez but as one Mexican told me "those things only happen to people looking for them."
Crossing back into the United States cost less, only 25 cents. There wasn't any line at the border and I was able to cross as fast as I could walk. One thing I have to say I noticed (but wasn't allowed to photograph) was that immigration was processing a large number of refugees. There was at least a hundred of them being processed. This was kind of a shock to me because in San Ysidro they only allow 40 refugees a day to be processed and San Ysidro has considerately more crossing facilities than El Paso.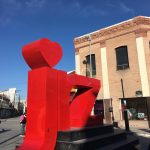 After having survived my explorations through El Paso and Juarez we continued on our journey to Albuquerque, New Mexico (which proved to be a lot more difficult).