Mexican State Capitals: Hermosillo, Sonora, Mexico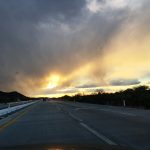 We started our journey into Sonora, Mexico by traveling down Arizona interstate 19. The city of Nogales is a split city that is located in both the USA and Mexico. On the Mexican side the city of Nogales continues on Sonora interstate 15. This route is known as the Juan Bautista de Anza trail which is a legendary trail that was forged in 1775 (yes a year before the USA became the USA) to colonize California.
Nogales, Arizona is much smaller than Nogales, Mexico. The border crossing was only 4 lanes total but was very quick. In Mexico, Nogales is a medium sized city. There was a lot of factories, they all had signs saying they were hiring. It made me wonder why immigrants would want to cross into the USA when there was so many good paying jobs in Mexico. We did not stay very long in Nogales because it was late December and it was snowing, we just wanted to get out of the snow as quickly as possible.
For lunch we stopped in a small Mexico roadside town called Imuris. We went to a restaurant called El Palo Verde (the Green Stick). It was a nice little family restaurant. Very simple, but clean. I ordered the most expensive item on the menu for $6 USD, which was Cecina (flat steak) , enchiladas, and a chile relleno. Needless to say that food in Mexico is abundant and very inexpensive.
Getting back on the road we didn't get into Hermosillo, Sonora until kind of late but I was able to make a hotel reservation on-line with Hotel San Alberto. The hotel was a nice hotel, but very basic. The light bulbs didn't work when we got in so the guard had to get some from another room so we could see where we were going. The beds were hard and the first day I had a cold shower. This said it was clean, had wifi, and was safe.
The city of Hermosillo, Sonora is a beautiful city but very underrated. Like many northern states Sonora has been racked by the drug trade violence, but the truth about that is you find what you are looking for, if you are looking for bad you will find it, but if you look for beauty you can find it as well.
We were in Hermosillo just for two days and the main day we were there was a Sunday so we didn't get to even scratch the surface. What we did discovered quickly about Hermosillo was that there is a big community of members of the Church of Jesus Christ of Latter Day Saints. In fact so many congregations are in the area that they have their own temple. The temple, like most temples is in an affluent area of the city. The other surprising fact was that in addition to regular bars there is a bunch of root beer bars in the city. Unfortunately, we didn't have time to go visit one but they looked really interesting.
At the time we went Denise had a temporary crown on her tooth and she wasn't supposed to chew gum, but she did, and her temporary crown fell off. So we had to go and find a dentist to do an urgent reapplication of the crown. Considering we were walk-ins and had no appointment, we were very fortunate, it only cost us $15 for the visit. I have never heard of a dentist being available on a Sunday afternoon and even my copays are higher than $15 in the USA.
After the emergency dentist visit we got to visit the Hermosillo plaza which was just a few blocks from our hotel. Like most Mexican cities, everything originates from a plaza park. On one side of the park is the Governor's Palace and the other side is the Hermosillo Cathedral. The state of Sonora started as the state of Sonora y Sinaloa in 1824 when Mexico gained it's independence, but split in 1830 to become Sonora and Sinaloa, two different Mexican states.
Sonora is home to seven original tribes: the Guarijíos, Mayos, Yaquis, Pimas, Peris (Comca'ac), Pápagos (also known as the Tohono o'odham), and Cucapás. The Kikapoo and Apache have also been in the region for over 100 years but are not natives to the area. A block away from the plaza is a regional art/cultural center called the Bicentennial building that celebrates the 200 years of Mexico by exhibiting native artwork. Next to this building is the Sonora State Supreme Court Building and a library dedicated to Alonso Vidal, who was a Mexican poet. By this time we were starting to get hungry so we decided to find a place to eat.
To eat we went to a little street called El Callejon Condesa. The restaurant, by the same name had a very artsy vibe and was very fancy with many waiters serving multiple servings of meals. Even for all it's fanciness, the whole meal only cost us $35 (which included a generous tip) for the two of us and that included top sirloin steak. The steak was cooked a perfect medium well (just a little bit of pink in the middle, but still juicy), it had an interesting regional sauce on it that was a little bit sweet. Denise tried some chillaquiles with three different sauces: green mole, green, and red. We have never been much of a fan of enchillada red sauce, it was OK, but we both agreed we could have passed it up. The two green sauces were very good. We also had some panuchos, which were like sopes but in this case there was beans inside of the corn cake. One of the surprising showings were these little bread balls that had membrillo (an apple like jelly), they were like little apple pies, very nice on a cold day. We were not dressed well for the restaurant but the waiters were very nice and let us in anyway and treated us very well.
The next day we headed out north to Agua Prieta to cross again into the USA. While traveling through the mountains we once again encountered snow. It wasn't too bad but it became a warning of things to come later in our trip (look for a post on New Mexico driving later). Lucky for us the driving wasn't too bad and we made it through to Agua Prieta. We knew that on the USA side there wouldn't be much so we stopped for a nice lunch on the Mexican side. We went to a seafood restaurant called La Palapa Rugus. We tried a seafood sampler platter that was too big for the two of us to finish but the interesting part was a soup called caguamanta. When I read it on the signs in the city I was kind of skeptical because caguama is what they call a loggerhead beer in Mexico, so I thought caguamanta was going to be alcoholic, but it was not at all that. Caguamanta is is a soup made up of manta ray, shrimp, avocado, tomatoes, and onions. It is served hot (not spicy) in glass cups and is a great way to heat up on a cold day.
Our road trip in Sonora ended by crossing the small border crossing into Arizona and continuing on to New Mexico.