A City of Three Cultures: Albuquerque, New Mexico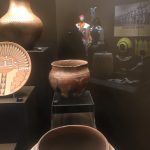 Albuquerque Mexico was established as a city in 1706 but there is evidence of a human presence in the area that is over 2,000 years old.
Our day started with a hike up the old volcano basin in Boca Negra which is part of the Petroglyph National Park. The main park was closed due to a shutdown but Boca Negra was open and I was able to take a short hike on some of the trails that surrounded that canyon.
On the way into the city center we went to the Indian Pueblo Cultural Center which is run by the 19 Indian Pueblos of New Mexico. It is a gathering place for Native American history, art, and culture. It is also a great place to try some interesting recipes. Denise got a meat stew and I got a fry bread taco, but the show stopper for us were fried koolaid pickles. Yep, you read that right koolaid as in the drink, and yes, they were red. I don't know if they were all that authentic, but they were very unique.
After visiting the cultural center we went to the city center which following Spanish building patterns is a plaza. Old town Albuquerque is fun place to visit. There are lots of different shops. My favorite shops was one with an entire wall of hot sauce and the American International Rattlesnake Museum. Also of interest was visiting the Candy Lady, where the show Breaking Bad was filmed.
On the way out of New Mexico we got to visit Hatch, New Mexico. Yes, it is named after the Hatch chili that is famous in New Mexico. We also went to Fort Craig that we found out was the location of the western most battle in the  US Civil War. Not much are left but a few ruins but it was interesting to see what used to be there.